Training outside on a road bike can be dangerous for a number of reasons, from bad weather to reckless drivers. To keep yourself in training fitness without running these risks, you can use the ProForm Tour De France Pro 5.0 stationary bike.
While the bike may be stationary, you can pack a great workout on this machine. There are 30 different gears on this exercise bike, allowing you to challenge yourself to a greater degree. You can also use the -20% decline and up to 20% incline to become ready for races that have challenging hills. As some areas can make it difficult to train for hilly races, this feature can make or break a cyclist's winter training.
Even if you are not an avid cyclist, there are plenty of top-notch features you can enjoy. There are 24 preset workout programs, which take place on the 2015 Tour De France race course. When you choose one of the preset workouts, you will be immersed into the race, with an HD video guiding you along the course. While riding along, your stationary bike will automatically adjust to the environment, giving you more of a realistic challenge.
Also, if you are looking for low-impact exercise, choosing the Pro 5.0 exercise bike is a great choice. It can accommodate a user who weighs up to 350 lbs, allowing people of all sizes to enjoy the ability to meet their health and fitness goals.

User Reviews Of The Tour De France Pro 5.0
There have been many satisfied people who have enjoyed using the Tour De France Pro 5.0 exercise bike. We have put some of their reviews from ProForm on this excellent bike below so you can have a feel for what makes the Pro 5.0 special for regular users like you.
"This is an amazing bike, after using a bike trainer for indoor/winter training, this bike is so much better, it is just like riding my road bike. It actually gives a much harder workout then actually riding outdoor since there is no coasting time, so by the time Spring comes I am ready for the outside. I love that I can map out bike rides that I might actually be training for."
"It took me a few weeks to get used to the bike. The feel and effects of the ride is way better than a regular spin bike. I hurt in places I didn't know I had! But then I began to feel the change and I really enjoy my every day 13-mile rides. I am really glad I decided to buy this machine."
"I must admit, this machine is as close to actually getting out and hammering 30 or 40 miles as you can get without leaving the house. The ride, the ability to simulate climbing and descending, the iFit capabilities and being able to see where you are, all make this as enjoyable as being out there when circumstances prevent you."
"We are very pleased with this bike. Absolutely love how the tilt feature and resistance are synchronized with the terrain on the ride. Google maps updates the screen view every few seconds. Your choices of rides are limitless all over the world. I also programmed familiar rides. Almost like road riding without the hazards of road debris, animals, or red neck truckers. Love this bike!"
If you would like to pick up this amazing exercise bike at a discounted price, you can use our ProForm promo code to help you take 5% off of its price.
The ProForm Tour De France Pro 5.0
If you are low on space, the Pro 5.0 stationary bike can be a lifesaver, as it only measures 25" wide, by 62" long, and 56" tall. You can't find a treadmill or elliptical with comparable dimensions. But don't mistake compact with cheap.
The Pro 5.0 has a commercial-gauge solid steel frame, making it an incredibly solid exercise bike. However, while it is a tough bike, you can still move this bike in and out of place. It can be easily moved thanks to the two front rollers mounted on the bike leveling feet.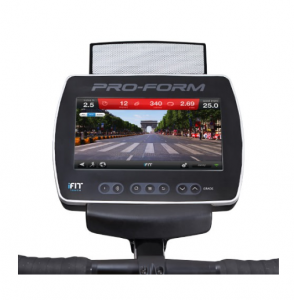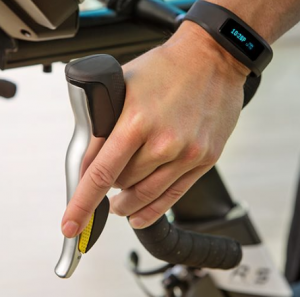 With the 10" touchscreen on the Pro 5.0, you can easily jump on this exercise bike and start working out. The touchscreen makes console navigation simple as the screen responds quickly, even if your hands are sweaty during a workout. It also gives you access to a host of workout data so that you can know everything about your workout performance.
Also, to keep the real biking experience there, you can use the hand gears by the Pro 5.0 handlebars to change gears electronically. There are 30 gears, with 10 rear gear speeds, and triple front chainring, so you can have a smooth, realistic bike ride.
The ProForm Tour De France Pro 5.0 Stationary Bike Features
There are several types of Tour De France bikes available on ProForm, so you want to be sure the bike you choose has the features you want. Below are the current features on the Pro 5.0 exercise bike:
Price – $2,999
Display – 10" touchscreen console
Flywheel – Silent Magnetic Resistance
Exercise programs – 24 preset Tour De France workout apps
Incline range – -20% to 20%
Gears – 30 available electronic shifting gears
Max weight user – 350 lbs
iFit Coach capable – Yes
Fans – No
Machine dimensions – 25" Wide by 62" Long by 56" Tall
Adjustable – Saddle and handlebars are adjustable
Heart rate tracking – EKG handlebar grips, compatible with chest strap
The Tour De France series from ProForm is their premier exercise bike series. These can offer a great training alternative for those who need biking training but can't ride outside. Some of the impressive things that come with the Tour De France exercise bike series are:
Power incline range to create a realistic ride
21+ Tour De France-centric workout programs
iFit Coach ready
Commercial-gauge steel frame
iFit Coach Integration On the TDF Pro 5.0 Stationary Bike
You can access iFit Coach through the integrated touchscreen on the Pro 5.0 exercise bike. With iFit Coach, you have:
Individualized workouts sent to you on a daily basis to help you meet your fitness goals.
Training from some of the leading personal trainers in the fitness industry.
Access to over 12,000 workouts, with more being uploaded to iFit Coach daily.
The ability to work out at home or on the road, as iFit Coach can be accessed on any smart device.
An all-inclusive health and fitness tracking dashboard, with the ability to track workouts, food intake, sleep, and other vital information.
ProForm TDF Pro 5.0 Warranty & Return Policy
The ProForm TDF Pro 5.0 warranty covers different aspects of the treadmill for varying amounts of time.
Lifetime coverage of the frame
Three-year parts warranty
One-year labor warranty
A warranty from ProForm only extends to the original buyer of the TDF Pro 5.0 and your bike needs to be registered on ProForm to receive the benefits of being warrantied.
As for the return policy, you have 30 days to decide if you want to return the Pro 5.0 exercise bike. If in that time frame you choose to return the TDF Pro 5.0, you will need to call 1-866-896-9777 to arrange a return of your treadmill. This return arrangement needs to take place before the 30 days are over. Before you call, make sure you have:
The model number of your treadmill.
The serial number for your specific machine.
The reason why you are choosing to return.
Once the return has been authorized and you receive a Return Authorization Number, you will need to disassemble and repackage the treadmill yourself. All items that receive a Return Authorization Number need to be sent back within 30 days of receiving the number for the return to be accepted. Your return will be processed within 30 days of ProForm receiving the returned treadmill at the warehouse.
If the treadmill was defective or damaged when you received it, you will be able to return the defective/damaged treadmill with no charge. However, your refund will be charged a 10% restocking fee for returned treadmills in good working order, as well as have shipping fees taken out of your refund.
ProForm Promo Code Can Help You Save on The TDF Pro 5.0
You can use our ProForm promo code on not only the Tour De France Pro 5.0 but on other ProForm exercise bikes and home gym equipment. The savings will stack if you want to buy multiple pieces of ProForm equipment or you can reuse our promo code whenever you go to buy from ProForm to ensure you are always receiving the best price.
That way, by using our discount code, it is possible to completely outfit your home gym space with the best workout equipment available! So, start reaching your health and fitness goals today with your purchase of the ProForm Tour De France Pro 5.0 exercise bike by clicking on our coupon code below.