If you have been hunting for a working promo code to use on your purchase of the ProForm Carbon E7 elliptical, then ProForm Coupon is the place for you! Our promo code has no expiration date and can help you save on your ProForm purchases with ease.

Steps To Use Our ProForm Promotion Code
Using our ProForm promotion code to save on your next ProForm purchase is simple and easy when you follow the steps below:
Select one of the promotion code links.
All of the links will take you to ProForm.
Once our promotion code link takes you to ProForm, feel free to shop normally.
After you are done shopping, head to check out.
On the "Order Discount" line, you will see where our promotion code savings are applied.
Finish your ProForm order!
After these steps are taken, you are good to go! There are no other steps, no email addresses needed, or anything like that.
Pairing Our Promo Code With The ProForm Carbon E7 Elliptical
When pairing our promo code with the Carbon E7 elliptical, you can maximize your savings on this great treadmill. Without financing, this treadmill will generally run you $1,399. Or, you can opt for the ProForm financing promotion. This financing promotion allows you to purchase the Carbon E7 with zero money down and provides you with three free years of access to iFit, which is a home personal training program with thousands of engaging workout videos and more.

Whichever option you end up choosing, you can add our promotion code to your purchase. That way, you can be sure to maximize your savings.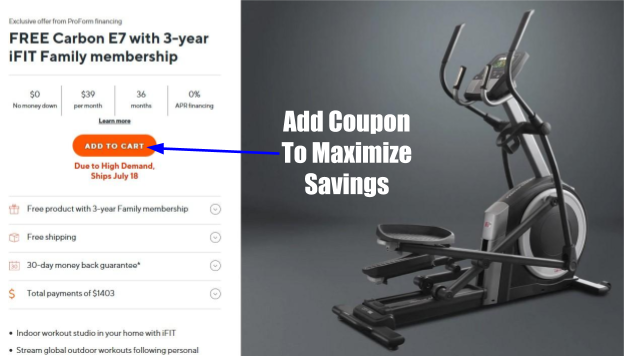 ProForm Coupon Code Is Always Here For You
Your average coupon code has about a paragraph of restrictions written in the fine print. But if you are looking for the secret restrictions on our ProForm coupon, you'll be looking for a long time.
It is as straightforward as our instructions promise. As long as your total purchase reaches $899 or more, our 5% off promo code will activate and help you save on your ProForm purchase. This coupon code has no expiration date, and you can feel free to combine it with sales for the best possible savings.
Overview Of ProForm Carbon E7 Elliptical
Before you invest in a new elliptical or any exercise equipment, you want to be sure that it fits your needs. Below is a feature overview of the Carbon E7 to help you ensure that this machine is the one for you.
Console: 7″ HD touchscreen
Fan: Yes
Footprint in use: 25" W, 68.5" L, 67.75" H
Stride length: 19" power-adjustable
iFit
Resistance levels: 24
Weight max: 325 pounds
Heart monitoring tech: EKG handlebars
Warranty period: 2 years parts, 10 years frame, 1-year labor
Incline ramp: 0-20% adjustable and powered
Pedals: Adjustable, oversized, and cushioned
Flywheel: 25 pounds
ProForm Carbon E7 Elliptical Top Qualities
When it comes to looking for your new elliptical, there are a few standout qualities that the Carbon E7 elliptical has set it apart from other available ellipticals.
Great range for all levels of fitness – Some individuals argue that machines have fixed points where they can't provide enough of a challenge after your fitness reaches a certain level. For those who reach competitive athletics, that may be true. But for most people, the Carbon E7 will provide an excellent range of resistance to keep yourself challenged and moving forward with your overall fitness.
Not only does the Carbon E7 elliptical come with 24 levels of digital resistance—which is plenty for most individuals—but you can also utilize the incline feature. With an incline range of 0% to 20%, you can up your incline level and keep your workouts challenging and fitness-building.
Free three years iFit when financed – For zero-money down, you can bring the Carbon E7 home when you opt for ProForm financing. That can help those who don't have the ready funds to pay for quality home workout equipment upfront. Along with the ability to finance, you get three free years of iFit membership.
With iFit, you have access to thousands of workout programs, many with engaging videos, personal trainers guiding you, and controlling your machine, as well as Google Maps workouts. That's just the tip of the excellent features you get with your iFit membership.
High-quality construction – By investing in bringing an elliptical home, you want to be sure that it will last. With the Carbon E7, you can enjoy the high-quality construction that a ProForm machine offers, from the solid steel construction of the frame to the thick molded plastic of the console. You also get the protection of the warranty, which is fairly comprehensive.
Buy ProForm Carbon E7 Elliptical Online
When you are ready to add the ProForm Carbon E7 elliptical to your home gym, be sure to grab our ProForm promo code before you go to shop online. Also, remember, our promo coupon only works online on the official ProForm site when you follow the outlined instructions above, so be sure to follow them to enjoy your savings!