ProForm makes simple, affordable, and reliable rowers for home gyms that come with either perfectly simpler features or a more enhanced virtual rowing experience. They currently offer the following models:
ProForm 750R Rower
MSRP $1299
Regular Sale Price $599

ProForm 440R Rower
MSRP $799
Regular Sale Price $399

Get 5% Off Your ProForm Rower Purchase That Exceeds $899
ProForm rowers are an affordable way to bring intense low-impact cardio into your home. You can get 5% off your purchase of the ProForm 750R with our exclusive ProForm promo code. To get 5% the ProForm 440R, combine your rower purchase with another item from ProForm to exceed $899 total and the 5% discount with our coupon will be automatically applied to your purchase at checkout.

How To Access ProForm Promo Code Discounts
Saving 5% on your purchase is super easy. Start by clicking on the coupon banner above. This will redirect you to ProForm.com.

Once at ProForm.com, select the rower you'd like to purchase. Once you've selected all items you'd like to buy for your home gym, head over to the shopping cart to complete your checkout.

You'll see our discount applied automatically – just below the subtotal.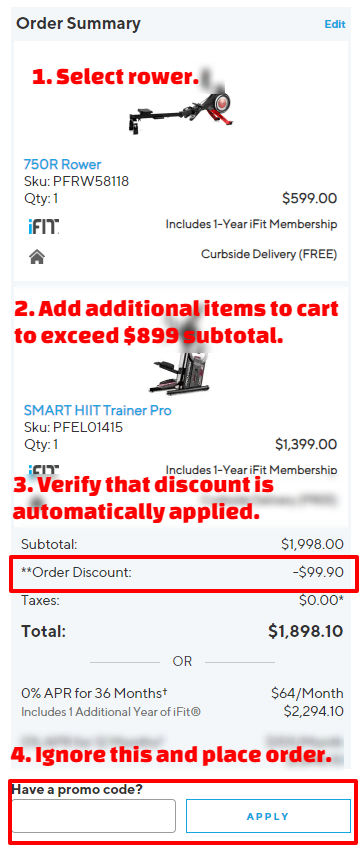 Get To Know ProForm's Rowers
ProForm offers two rowers that allow you to choose between a higher price with more tech features or a lower price and simple interface.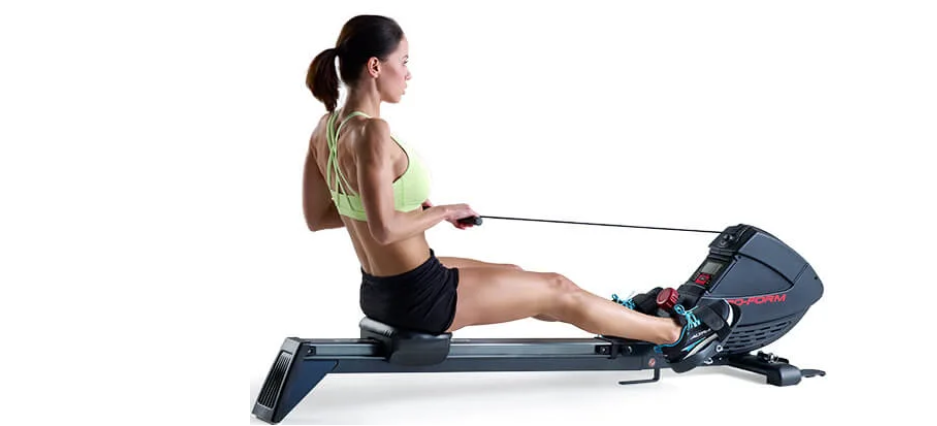 ProForm 440R Rower
Regularly priced between $399 and $799

Pivoting Pedal with Adjustable Foot Strap

8 Resistance Levels

Large LCD Monitor

Soft Touch Ergonomic Handle

Adjustable Ergonomic Molded Seat
Get 5% Off Your ProForm 440R Rower
Learn More About The ProForm 440R Rower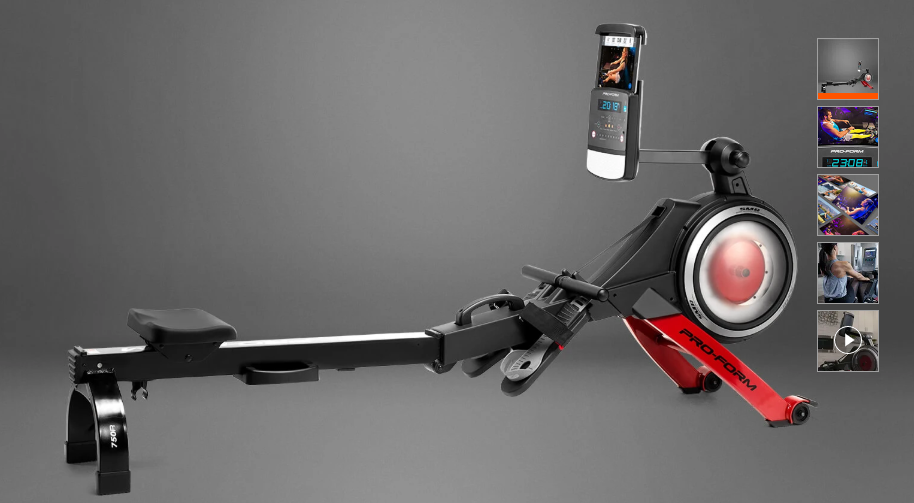 ProForm 750R Rower
Regularly priced between $599 and $1299

iFit® Enabled, 30 day Membership Included*

5" High-Contrast Display

24 Digital Resistance Levels

Inertia-Enhanced Flywheel

SpaceSaver® Design
Get 5% Off Your ProForm 750R Rower
Learn More About The ProForm 750R Rower
Learning To Use Your Rowing Machine
Movements on a rowing machine can be broken down into four segments: catch, drive, finish, and recovery. Understanding these four points of an over-all fluid movement can help you to drive more power, burn more calories, and protect from injury.
Your starting position is the "catch". Your knees are bent, the body is relaxed, and the arms stretch out to hold the paddle handles. In this position, your back should be tall and upright.
Next, you "drive" the paddles through the water. The drive portion of the rowing movement starts with straightening the legs by pushing back on the pedals with your feet. Once your legs are fully extended, you continue to drive the paddles through the water by leaning back and pulling the paddle handles to your chest.
The paddles leave the water as you reach your full extension and "finish" the stroke.
Returning the paddle handles to their position ahead of your feet is the "recovery".  This movement must be steady and controlled as you sit upright, bend the knees, and reach toward the flywheel with the paddle handle.
ProForm Rowers Add A Great Cardio Workout To Your Daily Home Exercise
Rowers offer full body cardio. The entire body, including all major muscle groups, work together to perform the fluid motion of catch, drive, finish, and recover.
Rowers are low-impact. The body can perform rigorous, calorie burning movements, without impacting their joints or back with hard force.
Rowers are inexpensive. Most home cardio machines are more than $1000 while rowers can be purchased for less without sacrificing quality, thanks to their simple design.
Rowers build lower back strength. Lower back muscles remain fully engaged during the entire workout so they're constantly in use. This builds and strengthens these muscles without adding too much strain.
Rowers are great for busy schedules. You can achieve a high-calorie burn on a rower in less time when compared to treadmills.
Buy Direct From The Manufacturer To Save $$$
This coupon will save you 5% on your purchase total that is more than $899 when you buy directly from ProForm.com. More retailers are beginning to sell home cardio equipment online and are slowly moving away from physical retail stores. This benefits the company and the buyer in multiple ways.
More equipment models to choose from.

Lower cost by removing the middle man.

Faster access to customer service.

Easier returns.

Discontinued or Paused Production ProForm E Series Exercise Bikes
ProForm 740 ES
ProForm 5.0 ES
ProForm 6.0 ES