When you are looking to save both money and space in your home, the ProForm Hybrid series is a great choice. These machines can be used at either recumbent exercise bikes or ellipticals, allowing you to pack in different types of workouts with just one machine.
Hybrid Trainer MSRP $599
Hybrid Trainer Pro MSRP $799

Pair Our Promotion Code With ProForm Deals
You can bring home ProForm machines at a discounted price when you use our ProForm promo code. With our genuine coupon, you can always save on your ProForm purchases, as our discount coupon will stack with other deals running on ProForm.
You read that right. Unlike some coupons which don't work during a sale, our ProForm promo coupon will always work for you during sales, as long as the base price requirement is met. So, feel free to add our coupon to any ProForm equipment sale that catches your eye!
Using The ProForm Promo Code Is Easy
With how convenient our ProForm coupon is, some people have wondered if it is tough to use. The short answer is—not at all! To use our ProForm promo code, all you need to do is:
Click on a coupon banner or sale link.
Every promo code banner link will take you to ProForm to shop.
Pick out the machine you want to save on.
Head over to the cart to buy your equipment.
Our savings will be applied here and are listed as an "Order Discount".
Finish checking out and enjoy that you saved on your new ProForm machine!
By following these simple steps, you can easily save on your next ProForm purchase. There are no secret surprises or information to give us, all we want is to help you to save.
Meet The ProForm Hybrid Trainer Series
To help you learn more about your options when it comes to choosing a hybrid trainer to add to your home gym, below are the two hybrid trainers currently being offered by ProForm.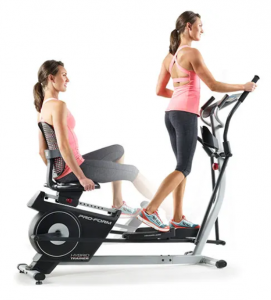 Hybrid Trainer Basic Specs:
Pricing range – $379-$599
Digital resistance levels – 16 levels
Display – Large LCD
Stride – 15" elliptical stride
Exercise programs – 16 workouts + iFit
Click here to read more on the Hybrid Trainer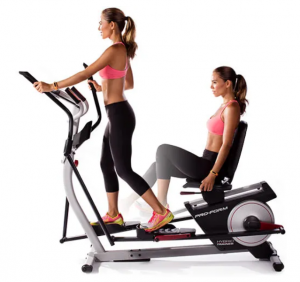 Hybrid Trainer Pro Basic Specs:
Pricing range – $549-$799
Resistance levels – 20 levels
Display – Large LCD
Stride – 17" elliptical stride
Exercise programs – 20 workouts + iFit
Click here to read more on the Hybrid Trainer Pro


Who Should Buy An Elliptical/Bike Hybrid Trainer
By the time you start hunting for coupons for your purchase, usually, you have a pretty good idea whether or not you really want to buy the item in question. However, if you are still uncertain if a Hybrid Trainer is for you, consider who we recommend buy these machines.
Hybrid Trainers help save space and money – While a stationary bike doesn't tend to take up that much room, if you wanted to have a separate bike and elliptical in your home gym, you may find your space is a little cramped. Instead of taking up large amounts of the room with these machines, you can opt for one of the Hybrid Trainers.
By having a Hybrid trainer, you can easily switch between doing an elliptical workout to engaging in a stationary bike workout. All you will need to do is change the position of the pedals and move the seat, depending on what kind of workout you want to do. Also, not only does this obviously save on space, you don't have the cost of buying two machines, and the Hybrid Trainers are both very affordable.
These machines are great for cross-training – It is very possible to overtrain your muscles if you stick to one type of workout, whether that's running or CrossFit. To avoid overtraining and potentially injuring yourself, you can use one of the Hybrid Trainers.
Your muscles are engaged differently when you workout on an elliptical than when you use a stationary bike. For one thing, using a recumbent exercise bike doesn't engage your arms at all, while you can work up a good sweat using the elliptical. By using the Hybrid Trainer to swap between these two settings, you can develop greater overall fitness.
Shop Online ProForm To Use Our Coupon
Saving on your ProForm purchases using our ProForm coupon and promo code is only possible when you shop online on ProForm. Our discount code only works there, so as you go to click on the coupon banner below, be sure you stay on ProForm when it re-directs you. That way, you can be sure to save on all your ProForm purchases.