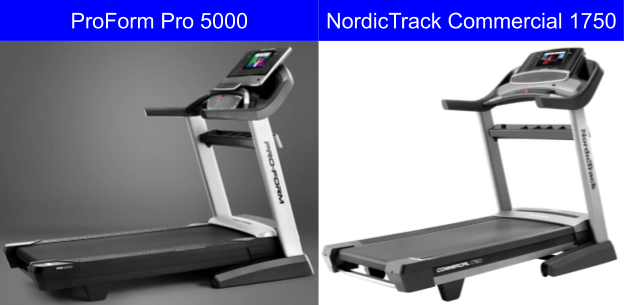 When you are hunting for the perfect treadmill, there are a lot of factors to consider, ranging from the price to the footprint of the machine. If you have determined that you need a higher-quality treadmill, you have likely found that the ProForm Pro 5000 and the NordicTrack Commercial 1750 are both reasonably-priced treadmills that are packed with great features. But which one is right for you?
Treadmill Feature Comparison: Pro 5000 vs. Commercial 1750
Well, to help you sort through your options, our treadmill gurus here at ProForm Coupon have compared these treadmills head-to-head to help you make your choice easier. Below is a side-by-side features comparison of the Pro 5000 vs. the Commercial 1750.
Features
Price
Treadmill Motor
Console screen
Built-in Programs
iFit Membership
Treadmill Belt Size
Cushioning
Speed Range
Incline Levels
Folding
Speakers
Heart Rate Sensors
Weight Capacity
Treadmill Footprint
Warranty
Pro 5000
3.5 CHP
14" HD Smart touchscreen
50
Free 30 days with purchase
20" W x 60" L
ProShox cushioning
0-12 MPH
-3% to 12%
Yes
Two, 3" Bluetooth speakers
EKG grip pulse handlebars
300 pounds
35.3" W x 77.3" L x 59.6" H
10 Year frame & motor
2-year parts, 1-year labor
Commercial 1750
3.5 CHP
14" HD Smart touchscreen
50
Free 30 Days With Purchase
22" W x 60" L
Runners Flex cushioning
0-12 MPH
-3% to 15%
Yes
Two, 3" speakers
EKG grip pulse handlebars
300 pounds
Yes
39.2" W x 78.8" L x 63" H
10-year frame & motor
2-year parts, 1-year labor
For a more in-depth look at the Pro 5000, be sure to check out our ProForm Pro 5000 page, which also shows you how you can use our ProForm promotion code to help you save on this treadmill.
How To Determine If Commercial 1750 or Pro 5000 Is For You
As you can see from the side-by-side comparison above, on the surface, the Pro 5000 and the Commercial 1750 are essentially the same, with the Pro 5000 treadmill costing $200 less. However, there is more than static feature stats that set these treadmills apart. Some things you should look at to help you determine which treadmill is really for you are:
Fan positioning – The position of the fan on the Pro 5000 is pointed more toward your core, while the Commercial 1750 is angled so the fan will blow on your face. If you struggle with overheating on a treadmill, the core-facing fan may be the best option.
Cushioning quality – While the Pro 5000 has good quality cushioning with the ProShox cushioning, the Commercial 1750 comes with Runners Flex cushioning, which you can adjust. If you have tender joints or are recovering from an injury, the better cushioning on the Commercial 1750 may be what you need.
Speaker variation – There are fairly standard speakers on the Commercial 1750, with an aux port to connect your music, which the Pro 5000 comes with Bluetooth speakers. Since the Bluetooth speakers provide greater clarity, the Pro 5000 is the natural choice for those who want to utilize their treadmill speakers.
Treadmill footprint – When you compare the two treadmills' footprint, they are close in measurements, but the Commercial 1750 is a little more compact, which can be helpful. However, both treadmills can fold up to help save space.
Also, if the Pro 5000 is just a little underpowered compared to what you need, you may want to consider the ProForm Pro 9000. It only costs $200 more and provides you with a larger motor, bigger touchscreen, and other improved features.
And of course, you can use our ProForm promo code on both the Pro 5000 and the Pro 9000! So, no matter what you choose, you are picking an excellent treadmill that you can get a great discount on.