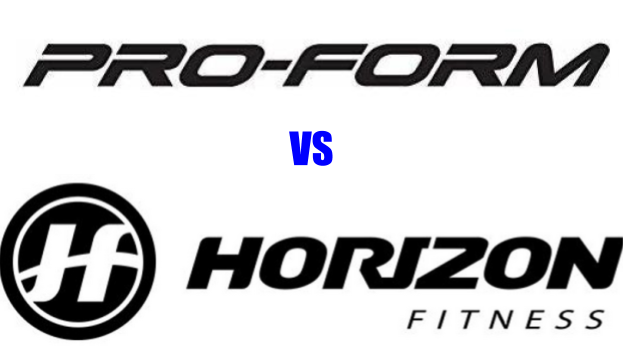 In most cases, buying home workout equipment isn't an impulse purchase. Even if you don't end up doing hours of research—reading equipment reviews, buyers' feedback, etc.—you will probably do a bit of price and feature comparison.
One such comparison that we often see is ProForm equipment being stacked up against Horizon workout equipment. Their offerings have comparable prices in many instances, and both of these fitness manufacturers have a good reputation for producing quality machines.
So, should you go with ProForm or Horizon when it comes to your next fitness equipment purchase? Well, to help you decide, we are going to compare ProForm vs. Horizon and help you see what each company offers.
ProForm Treadmills vs. Horizon Treadmills
Let's start by comparing both companies' treadmills, as they are some of the most popular home workout equipment. ProForm treadmills range in price from $699 (SMART Performance 400i) up to $1,799 (SMART Pro 9000). That's a pretty good price range, as it allows people of all budgets to find a quality ProForm treadmill.
Horizon treadmills start in price at $599 (T101) and reach $1,799 (7.8 AT). As you see, that price range is comparable to the ProForm treadmill prices, with Horizon's having a slightly more affordable treadmill. The Horizon T101 is an excellent starter treadmill and is best for users who want to walk and do a little jogging. Comparably, the ProForm SMART Performance 400i is for walking and some jogging, but where this machine—and other ProForm treadmills—really shine is the tech.
ProForm treadmills all come with touchscreen displays, allowing you to more easily navigate your workout programs, check exercise data, and you can access iFit Coach. You also get a free year of iFit Coach membership with your purchase of a ProForm treadmill.
Tech is definitely where Horizon treadmills fall short. They have LED screens, and the workout program selection interface can be clunky. However, the budget Horizon treadmills—the T series treadmills—are simple and easy to use for those who don't care about tech. Also, most of the Horizon treadmills have a higher weight capacity than ProForm treadmills (over 300+ pounds), which may be something to consider if you are heavier and want a treadmill.
ProForm Ellipticals vs. Horizon Ellipticals
Next, let's put ProForm ellipticals vs. Horizon ellipticals. There is a bit more variability in what to look for in your next elliptical, as these machines can come in different configurations in ways that treadmills can't. Pricing-wise, ProForm has a bit of an edge over Horizon, as ProForm elliptical prices start at $499 and go up to $1,599.
However, Horizon isn't that far off in prices. Their most affordable elliptical starts at $599 and caps out at $1,399. Some of this more affordable pricing is due to slightly restricted features, such as all Horizon ellipticals only coming with LCD screens, while many of the ProForm ellipticals will have a touchscreen display.
Also, bundled with the ProForm touchscreen ellipticals will be a free year of iFit Coach membership, giving you access to thousands of workouts. In contrast, Horizon only offers basic workout programs, which aren't as engaging as the options available through iFit Coach. The Horizon Evolve 3 and Evolve 5 can connect to Passport and ViaFit, but that is a separate service you need to purchase.
For heavier individuals, ProForm may be a better choice, as they can accommodate individuals ranging from 300-375 pounds, depending on the model of the machine. Most of the Horizon ellipticals cap out at 300 pounds, with one accommodating users up to 325 pounds.
ProForm Exercise Bikes vs. Horizon Exercise Bikes
Last, but not least, we want to cover ProForm exercise bikes versus Horizon exercise bikes as the other popular home fitness equipment option. ProForm exercise bikes have a wider price range than Horizon stationary bikes, with ProForm stationary bikes priced from $499 to $1,499.
As for Horizon stationary bikes, the four bikes available have a smaller price range, going from $499 to $699. With both ProForm and Horizon exercise bikes, you can find upright and recumbent bikes. However, your options are a little more limited with Horizon, as they only have four bikes to choose from while ProForm offers seven exercise bike options.
Horizon and ProForm are similar in the weight capacity. Depending on which bike you are interested in, the max user weight on Horizon bikes can range from 286-350 pounds, while ProForm bikes range from 250-350 pounds weight max. Also, as with the ellipticals and treadmills, ProForm exercise bikes generally provide you with more fitness technology when compared to the limited tech on Horizon stationary bikes.
If you do decide to go with a ProForm purchase, be sure to use our ProForm promo code to ensure that you maximize your savings!