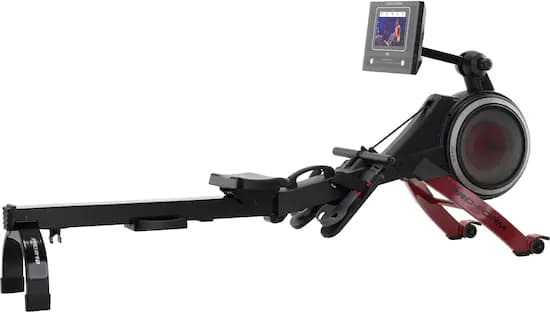 If you're looking for an excellent full-body workout, look no further than a rowing machine. Whether it's your first day in the gym or you've been working out for years, a rowing machine is adaptable to just about any skill level! Considered to be a low-impact workout, the rowing machine provides the ability to strengthen muscles while being kind to the hips, knees, ankles, and shoulders.
The rowing machine is also perfect for a home gym since many take up minimal space and can even be moved out of the way when not in use. Combine these factors with a quiet ride, and rowing can be a convenient workout for anyone looking to increase cardiovascular health while gaining strength.
But which one is the best, with so many on the market?
Let's compare and contrast the R10 Rower from ProForm and the Peloton Row; you can decide which might be best for you and your fitness goals and budget!
ProForm R10 Rower
The R10 rower from ProForm currently retails for $1,403. Enabled with iFit, the purchase of this rower includes a three-year membership that will renew after the three years at $396. This membership allows you and your family access to thousands of on-demand and streaming workouts – not all of them have to utilize the rowing machine!
Everyone will find a workout that fits their goals, from yoga and meditation to strength training and high-intensity interval training. In addition, virtual trainers can be viewed on a 10" smart high-definition touchscreen, as can your progress over time.
The R10 rower provides an ergonomic seat, giving you a comfortable ride as you move through 24 levels of resistance. The handlebars are adjustable for everyone in your family, while the pivoting pedals can also be adjusted.
In addition, this rower has SpaceSaver Design, which allows you to fold the machine in half to save space, along with front-mounted wheels that make it easy to roll away.
With a weight capacity of 250 pounds, the R10 is adaptable to almost everyone in your family!
Peloton Rower
Peloton has four different packages to choose from regarding their rower. This includes the rower itself, retailing for $3,195 and then increasing to $3,570 depending upon the accessories wanted (such as dumbbells, water bottles, yoga straps, mats, etc.).
A $44 per month membership is required to access the Peloton platform. This membership can be used across all Peloton equipment and allows each family member to participate. With real-time metrics and the ability to track your performance and progress over time, you can fully engage in on-demand classes at your convenience.
Workouts are viewed on the high-definition swivel touchscreen, while the resistance can be controlled electronically. With ergonomically designed handlebars and a comfortable seat, the rower can be adjusted to fit anyone in the family.
In addition, the Peloton rower can be stored vertically, so ensure that you have at least 8' of ceiling clearance before purchasing if you plan on moving the rower out of the way.
With a total weight capacity of 300 pounds, the Peloton rower is a good piece of equipment for your home.
Bottom Line
The R10 rower from ProForm and the Peloton rower can help you reach your fitness goals! If you do not want to pay extra for access to on-demand workouts, the R10 is a better investment.
Take a look at your available space options to ensure either rower will fit in your space – and as always, take a look at your budget so you know you can get the most bang for your buck.