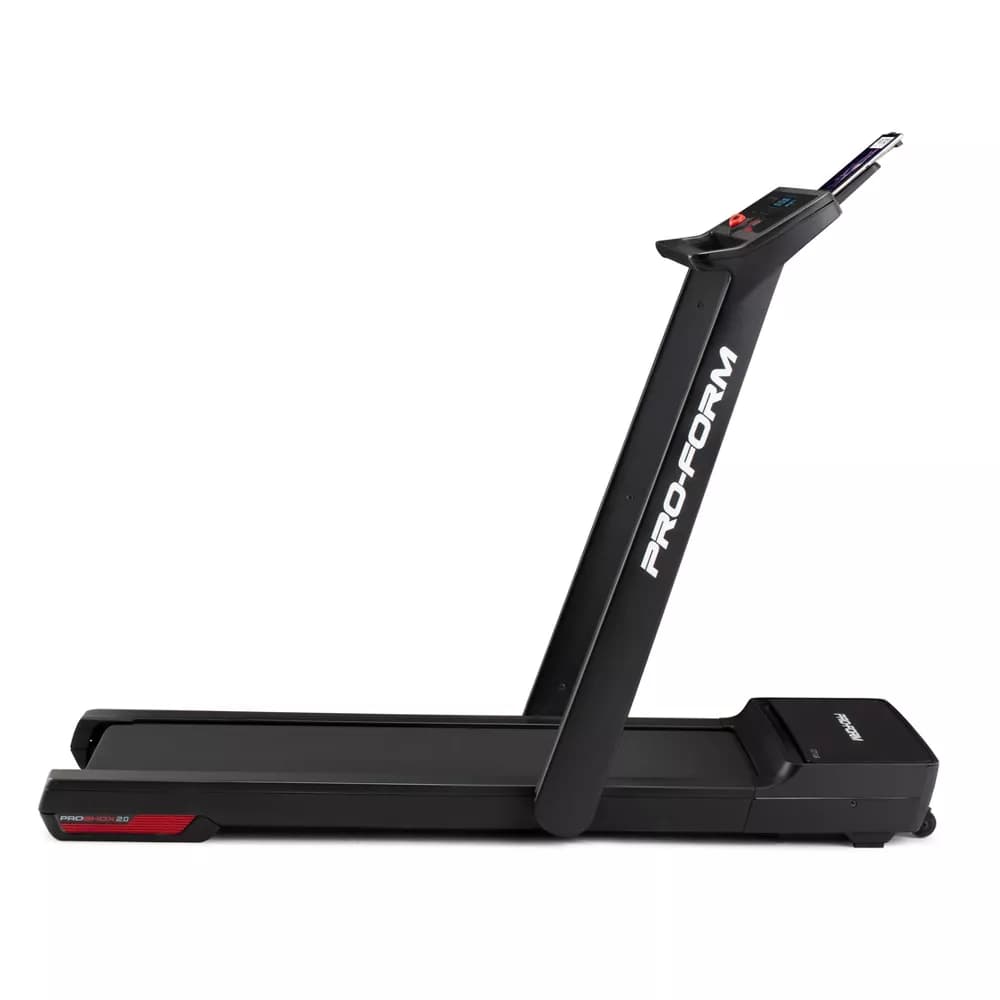 If you're looking for a piece of fitness equipment for home or work, the choices are endless; from rowers and bikes to ellipticals and climbers, it can be overwhelming! Treadmills are probably not at the top of the list if you have a tiny space.
But what if you could find a foldable treadmill that can be rolled away when not in use?
Thankfully, these treadmills are available – and can make at-home workouts much more enjoyable. In addition to the convenience of folding in half, treadmills provide a full-body workout that strengthens the legs and core while building cardiovascular endurance. Aside from heart health, you can improve posture, decrease stress, and improve overall mood!
Let's take a look at two treadmills from ProForm and LifeSpan, both of which can fold in half. Take a look at the details and see if one fits your budget and fitness goals the best.
ProForm City L6
The City L6 treadmill from ProForm currently retails for $599 and includes a 30-day trial of iFit for you and your family. After the trial period ends, the platform will be $39 a month. Access to the iFit community allows you to enjoy thousands of on-demand and streaming workouts at the touch of a finger.
With the iFit app loaded on your phone or tablet, you can take part in studio classes, train in scenic locations, and even engage in interactive training with trainers who can adjust the resistance on your treadmill virtually!
The City L6 reaches speeds up to 8 miles an hour and can support up to 250 pounds in user weight. The built-in tablet holder allows you to run or walk with your hands free, while the Bluetooth lets you hear your virtual trainers without any issue.
If space is a concern, look no further than the City L6; this treadmill folds in half when you are done exercising, reducing the footprint as needed. The easy-rolling wheels help you easily move the treadmill from one room to another.
LifeSpan TR650
The TR650 from LifeSpan currently retails for $449.99 on sale, although regular pricing is $699.00. Considered a treadmill with minimal frills, you won't find any use for a tablet unless you have your own workout programming! The display is a 3" touchscreen LED window, allowing you to see your time, distance, and speed as you log your miles.
The TR650 reaches speeds up to 10 miles per hour and supports up to 220 pounds of user weight. Another space-saving treadmill, the TR650, can fold in half once your workout is completed.
Wheels on the front of the treadmill make it easy to roll the machine under a bed or into a closet when not needed. Treadmill lube is also provided with the purchase of the TR650 so that you can do maintenance as required.
Bottom Line
The ProForm City L6 and the LifeSpan TR650 treadmills will point you in the right direction toward reaching your fitness goals. However, if you want more guidance and instruction with your workouts, the ProForm City L6 is undoubtedly a better option since the iFit platform is included!
On the flip side, if you're not looking for bells and whistles in terms of programming, then the TR650 might work just fine. Either way, you'll have a space-saving treadmill that can be stored away when not used!