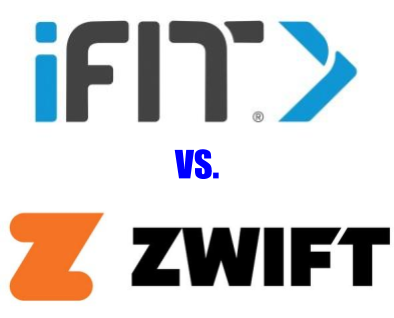 Home fitness manufacturers like ProForm, NordicTrack, and others have been producing quality workout equipment for decades now, all to help you enjoy effective home exercise. The next step in the natural evolution of home workouts is to bring personal training home.
Now, clearly, most people aren't going to be able to afford to have an in-person personal trainer come to their house multiple times a week to workout. Yet, the engagement and focused training that a coach can provide can be invaluable for your fitness journey. So, to help fill the gap, personal training apps have started to appear.
Two personal training apps that have risen in popularity are iFit and Zwift, and with that popularity is the question—which fitness app is better? Let's compare the two and see which personal training app is the right one for your needs.
What Are iFit Coach And Zwift
If you have only heard enough about these apps to know that they are competitors, let's start by establishing what they are and what both iFit Coach and Zwift offer.
Starting with iFit, this personal training app was launched in 2016 by ICON Health and Fitness, the parent company for big-name fitness brands like ProForm, NordicTrack, Freemotion, and more. Since its launch, iFit has grown to include a range of functions—pre-recorded videos with iFit trainers who can take you to workouts around the world, in-studio sessions, and programs that use Google Maps to help you train.
There are workouts that are exercise-based, such as running, cycling, elliptical, rowing, and more. Also, along with the thousands of workout programs in the iFit library to choose from, there are cross-training exercises like kickboxing, yoga, and much more.
In comparison, Zwift's app offerings are a little more limited. Launched in 2014, Zwift is designed for cyclists and treadmill users. Instead of videos of real-world environments, Zwift has a more video game style that appeals to users who like to game-ify their workouts. You can join in different races, runs, and rides with other users or just stick to the Zwift library of programs.
Since the Zwift app is based around cycling and treadmills, you will need to have or purchase equipment to effectively use this app, which isn't the case for iFit.
Basic Features Breakdown Between Zwift vs. iFit
It can be difficult to do a features breakdown between fitness apps, as they are often built with different target audiences in mind. However, we wanted to give you a brief overview of what each app has to offer potential users.
iFit Features
Price: For an individual subscription, it costs $15 per month. If you want a family subscription to iFit up to five different profiles, it costs $33 per month. One thing to keep in mind is if you purchase qualifying equipment, you can get a free year subscription to iFit Coach with your purchase, so you can try before you buy.
Equipment: You don't need any equipment to use the iFit app. There are plenty of different workout programs that you can do without purchasing extras, as well as programs that only require a few things like yoga mats, kettlebells, etc.
However, if you are interested in a fitness app that works with home fitness equipment, most currently available ProForm, NordicTrack, and Freemotion equipment are compatible with this app, and many come with iFit built into the machine. Also, with iFit built into the equipment, the personal trainers can take control of your speed and incline on treadmills, and other applicable controls depending on your machine.
Compatibility: The iFit app is generally paired with compatible equipment. However, you can download the iFit app on your iOS or Android devices so that you can use this app off-equipment or in the tablet holder of a more budget-friendly iFit compatible equipment.
Types of workouts: There is a wide range of workouts available in the iFit exercise library. Many of the workouts are associated with compatible equipment, such as runs, cycling, elliptical, and rowing workouts. However, there are also off-equipment workouts, such as pilates, yoga, HIIT workouts, different muscle-group focused workouts, kickboxing, and other cross-training workouts.
Another popular type of workout you can do with iFit is their Google Maps workouts. You can switch between map view, satellites, and in-person view. There are pre-made map workouts, and you can build your own Google Maps workout and send it to your equipment.
Community features: On iFit, you have access to the iFit community to discuss workouts, challenges, and other topics. You can set up private challenges with friends or open up public competitions. Also, many of the iFit workouts come with a leaderboard with adjustable filters.
Zwift Features
Price: After a 7-day trial, the Zwift app costs $14.99 per month. Also, even if you purchase equipment from Zwift, there is no bundled free subscription like with many ProForm machines.
Equipment: There is some debate about whether or not you need to purchase equipment to use Zwift, or if the app alone is enough. Technically, if you already have a treadmill or stationary bike, you could just prop the Zwift app up and use it. But that isn't much different than loading up a YouTube video, as it has no interaction with your actual workout without equipment.
Instead, to get the most—or really, anything—out of the Zwift app, you need to buy at least a bike trainer for cycling workouts or a RunPod to track your motion on a treadmill. With the cycling trainers, some of them work to simulate the road conditions so that you can enjoy a more realistic ride. You can also purchase heart rate monitors and other miscellaneous workout equipment to improve your Zwift workouts.
Types of workouts: Zwift focuses on providing bicycling and running workout programs, with different maps available, races, and events. In the computer-simulated world that the Zwift app brings you into, your Zwift avatar can workout against other Zwift users' avatars or just go your own way.
Community features: You can connect to your real-world friends as they workout inside or outside, as Zwift allows for data sync with third-party apps like Garmin Connect and Strava. Or, like we mentioned above, you can join in races and participate against other Zwift users in a variety of events, from fun runs to focused races.
Should You Choose iFit or Zwift As Your Fitness App
Which fitness app you choose should be based on your health and fitness goals. Zwift works well for a narrow group of users—primarily indoor cyclists and treadmill users. When it comes to iFit Coach, it has more usability. Multiple types of fitness equipment can be used with iFit, and you can use it off of equipment as well.
Also, you may want to consider the costs outside of the apps themselves. Say you want to order equipment to use with Zwift. One such bundle they offer is Tacx Neo 2T, which is one of their smart trainers for bikes. It costs $1,399.99, and if you want to bundle an arm heart rate monitor, a microshift trainer cassette, as well as a 3-month Zwift paid subscription, you will pay $1,564.98 before taxes. You also need to already own a bike you can convert to use with the Zwift trainer, and if you don't have one, you will need to buy it and add that to your costs.
In contrast, say you purchase the ProForm Studio Bike Pro. If you can catch it on sale, you may be able to pick it up for $999! Along with that excellent pricing, you receive a free year subscription to iFit. So, not only is it less hassle, you may end up saving a good deal more money if you choose iFit vs. Zwift.
Remember, if you want to use our ProForm coupon code, it won't interfere with your free year of iFit Coach access! Instead, both discounts are bundled together for the best savings possible.