Treadmill folding engineering has improved over the years. From being unable to fold up one of these machines at all in the early days to the smooth mechanical folding action modern ProForm treadmills come with, fitness technology has greatly advanced. That way, you can now add a treadmill to your home without it taking up a ton of space when not in use.
If you are unsure how newer ProForm treadmills fold and unfold, don't worry, you aren't alone. We have gotten questions about folding and safely unfolding ProForm treadmill, so we are excited to talk about all the tech built into the deck of your ProForm and how it works.
ProForm Treadmill EasyLift Assist And SpaceSaver Design
For those who haven't owned a treadmill in a while—or never owned one at all—the only folding design you may have seen on treadmills is the spring-loaded pin lock. This type of folding required you to lift up the deck and one-handed juggle the deck as you pulled back the pin to secure it in the right slot. Luckily, that isn't what you get with ProForm treadmills.
Thanks to the EasyLift Assist technology built into the deck, ProForm treadmills have a hydraulic lift system installed under the deck of the treadmill. This system reduces your effort both when it comes to folding and unfolding your treadmill. Also, thanks to the SpaceSaver Design, your ProForm treadmill is designed to be as compact as possible when folded up.
How To Fold Up A ProForm Treadmill
Raise The Deck
Most currently available ProForm treadmills have a metal grab bar under the deck, near the foot of your treadmill. Grab this bar and lift your treadmill deck. For the smaller treadmills, you likely will only need one hand to lift the deck, though two is recommended.
Push Deck Until You Engage Lock
To ensure that the treadmill deck is locked, continue to lift the deck until you hear the lock engage. There should be an audible click, but if you don't hear it, take a step back and release your hold on the deck. With the hydraulic system, even if the lock did not engage, the deck will not crash down. Instead, it will slowly drift down, and you will need to try again.
How To Unfold A ProForm Treadmill
Press Hands Against Foot Of Deck
You can't unlock the deck without first raising up the deck. This mechanism is in place to help prevent the lock from being bumped and unlocking the deck accidentally. So, push up slightly against the grab bar or the foot of the deck to start the release of the ProForm deck locking mechanism.
Disengage Hydraulic Lock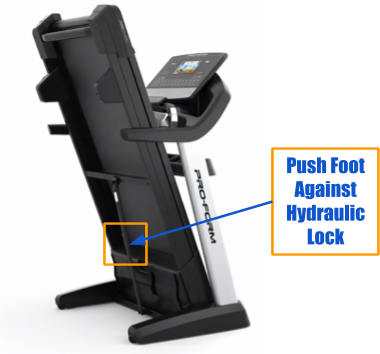 Once you have pushed up, press your food against the hydraulic lock. There should be a sticker on your treadmill indicating where to press. We recommend you leave this sticker in place to help you easily locate where to press your foot in the future.
Step Away From Treadmill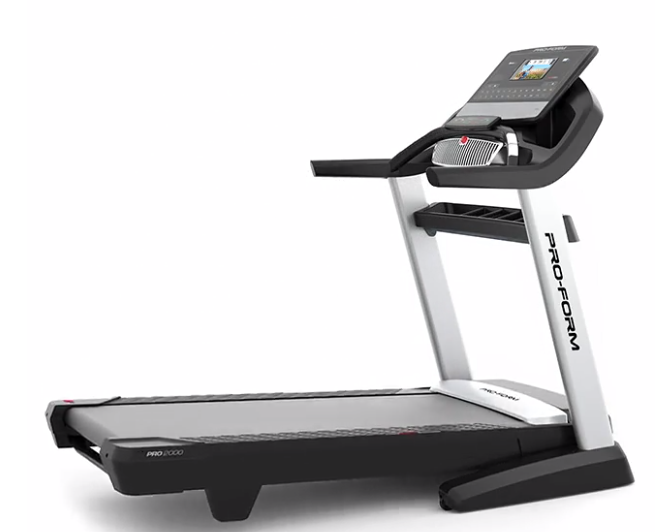 After you have pressed the lock, keep pressing and begin to let the deck descend. Once you are sure the lock has disengaged, you can step clear of your treadmill deck and let go. Thanks to the hydraulic system, the deck will gently descend on its own to touch down softly.
All ProForm Treadmills Can Fold Up
That's right, no matter which of the current treadmills on ProForm you want, you can pick up a folding treadmill! With a folding treadmill to support your workouts, you can utilize your home gym space more completely when not using your treadmill.
Also, once you know which machine you want, be sure to grab our ProForm treadmill coupon. As long as your total purchase equals $899, our promo coupon will work to allow you to save on your treadmill purchase!