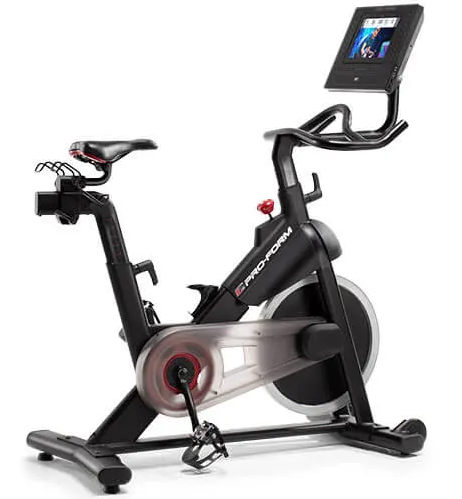 Most people can't outfit their entire home gym in one go, even with helpful discounts and promotion codes, making their purchases more affordable. Since cardio equipment is the most popular home gym purchase, often, the question comes down to buying an exercise bike vs. a treadmill.
Differences Between Exercise Bikes and Treadmills
While both exercise bikes and treadmills fall in the cardio equipment category, these machines provide vastly different experiences.
By choosing a treadmill, you are choosing the ability to burn calories faster. You burn more calories on a treadmill, rather than an exercise bike because treadmills require more of your full body effort. With that full-body exertion, you are more able to tone your entire body as you use a treadmill.
Also, treadmills have a high level of utility. While you can use a treadmill for walking, jogging, and running, you can also do specific core or strength exercises on top of being able to run. Along with these benefits, treadmills can help you build up bone density as you make impact with the treadmill deck, with the cushioned deck to help reduce the effect of impact. All ProForm treadmills come with ProShox cushioning to help reduce the effect on your joints and body overall.
As for exercise bikes, one of the major features that people like about them is how they provide access to low-impact cardio that still allows you to crank up your heart rate. The only thing holding back your heart rate from a good workout is how fast you can pump your legs and how much resistance you use.
However, unless you are treating every workout like a live studio session, it isn't likely that you will burn as many calories on your exercise bike as you will on a treadmill. On the other hand, if you aren't very steady on your feet, an exercise bike makes a lot of sense. Recumbent bikes, in particular, come with wide, padded seats that allow you to safely sit and workout.
Consider The Cost Of An Exercise Bike vs A Treadmill
Another significant reason why people struggle to choose between a treadmill vs. exercise bike is due to the cost factor. In general, a high-quality ProForm exercise bike will cost far less than a high-quality ProForm treadmill.
Consider this—ProForm exercise bikes range in price from $379 to $1,699. Compare that to ProForm treadmills, which range in price from $699 to $1,999. If you are on a tight budget, that kind of pricing difference can impact whether you choose an exercise bike vs. a treadmill, though our ProForm promo code can help reduce the price difference.
How To Decide Between Exercise Bike Or Treadmill
Now that you have the basics of exercise bikes vs. treadmills, now it comes down to choosing between these two machines. To help you narrow down which type of cardio machine you want, ask yourself these questions.
What kind of budget have you set aside for equipment? If you are on a really tight budget, but really want a treadmill, one of the SMART Performance treadmills is a great option. You can also use ProForm financing to help you bring your treadmill home. But if your budget doesn't stretch that far, an exercise bike makes the most sense.
How much room do you have? Treadmills can take up a significant amount of floor space when in use. You will want to carefully measure the area you want to put your treadmill before buying. While all ProForm treadmills can fold, if you live in tight living quarters, a ProForm exercise bike may be the better option, as they are quite a bit smaller.
Which type of exercise do you like more? It may sound funny but think about it. If you hate cycling, then why would you buy an indoor bike? Same goes for buying a treadmill but hating running. Buy the machine that provides you with a type of exercise you actually enjoy.
What is your main goal in buying fitness equipment? Are you looking to lose weight quickly and want to tone up all over? Then a treadmill is what you should be going for. But if you are looking for low-impact cardio for better heart health, then consider choosing an exercise bike.
Do you have any medical considerations? If you have any medical restrictions, you will want to talk to your doctor about your health before you commit to either machine. Your doctor will be able to help advise you on which machine will better support your health.
Whether you are looking for quick calorie-burning power with a treadmill or low-impact exercise with an exercise bike, make sure you use our ProForm coupon to save on either type of equipment!