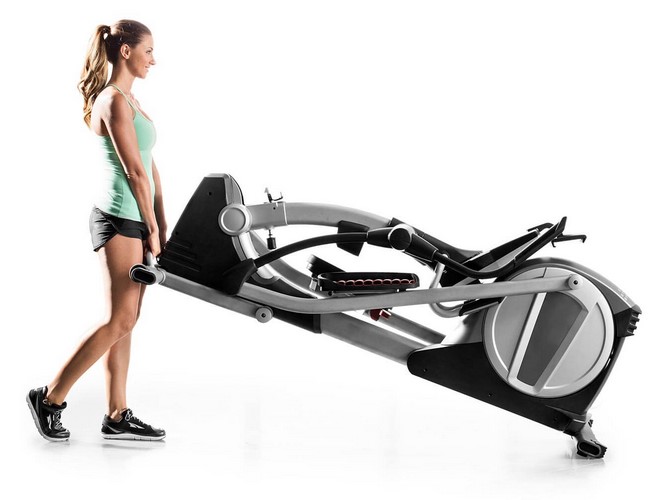 While it is not uncommon to find a folding treadmill, a folding elliptical is less common. But, if you are low on space and need a machine that will fold up, you may be willing to do some hunting.
Well, you are in luck! You don't have to look too far to find an affordable ProForm machine that fits the bill—the ProForm SMART Strider 895 CSE elliptical.
Folding Elliptical: ProForm SMART Strider 895 CSE
Currently, the only folding available folding ProForm elliptical, the rear-drive SMART Strider 895 CSE elliptical has a lot more to recommend it than just its ability to fold.
For one thing, this elliptical comes with a free year membership to iFit—a top-notch personal training program—as well as a built-in 7″ smart, high-definition touchscreen. This touchscreen allows you to easily scroll through iFit workouts. Once you have picked through the thousands of offerings, you can push yourself with the help of an iFit personal trainer. They can control the incline and resistance level on your machine, though you can take charge if needed.
Speaking of incline, yes, you read that right—the SMART Strider 895 CSE comes with an incline range of 0-10%. With this incline range, you can boost the intensity of your workout sessions, along with the 24 digital resistance levels. Also, thanks to the Silent Magnetic Resistance, your workouts will be nearly silent—unless you want to utilize the speakers built into the console.
Commonly Asked Questions About Folding ProForm Elliptical
There are some common questions that are associated with the SMART Strider 895 CSE, from how it is folded to its mobility. To help clear up some confusion, we answered the most common questions below.
How do I fold the SMART Strider 895 CSE?
At the base of the console upright arm, you will find a knob. This knob will need to be unscrewed first to allow you to unlock the upright. On the backside of the upright arm, you will find the latch that you will need to lift to unlock your elliptical from its upright position.
Keep a hand on the upright so that your console doesn't go pitching forward. It should form a compact bundle that you can easily store.
Does the elliptical store flat or upright?
You can store the SMART Strider 895 CSE horizontally or vertically. If you want to store it horizontally, all you need to do is unlatch the upright arm, and you're done.
To vertically store the SMART Strider 895 CSE, you will need to pick the elliptical up by its grab bar, which is located in front of your elliptical at the base. Once you have a good grip, raise the elliptical up until it rests on the feet located on the rear-drive flywheel case.
Is this elliptical weaker because it folds?
No, the structural integrity of the SMART Strider 895 CSE isn't compromised by folding since only the upright arm folds down. Also, the frame of this machine is made with high-quality solid steel, which allows users who weigh up to 325 pounds to use this sturdy folding elliptical.
Are there wheels on the ProForm 895 CSE elliptical?
There are rear-mounted wheels on the SMART Strider 895 CSE elliptical, allowing you to wheel it from its current position to its storage spot. This elliptical can be a bit heavy for some individuals, so we recommend caution the first few times you pick up this machine.
Use ProForm Promo Code When Buying The 895 CSE Elliptical
Hopefully, this information has helped you come to a decision whether or not the folding ProForm SMART Strider 895 CSE elliptical is the one for you. If it is, you can always use our ProForm discount code to help you save on your purchase.
So, be sure to click on our 2020 ProForm promo code to ensure that you get the best savings possible on your new folding elliptical!