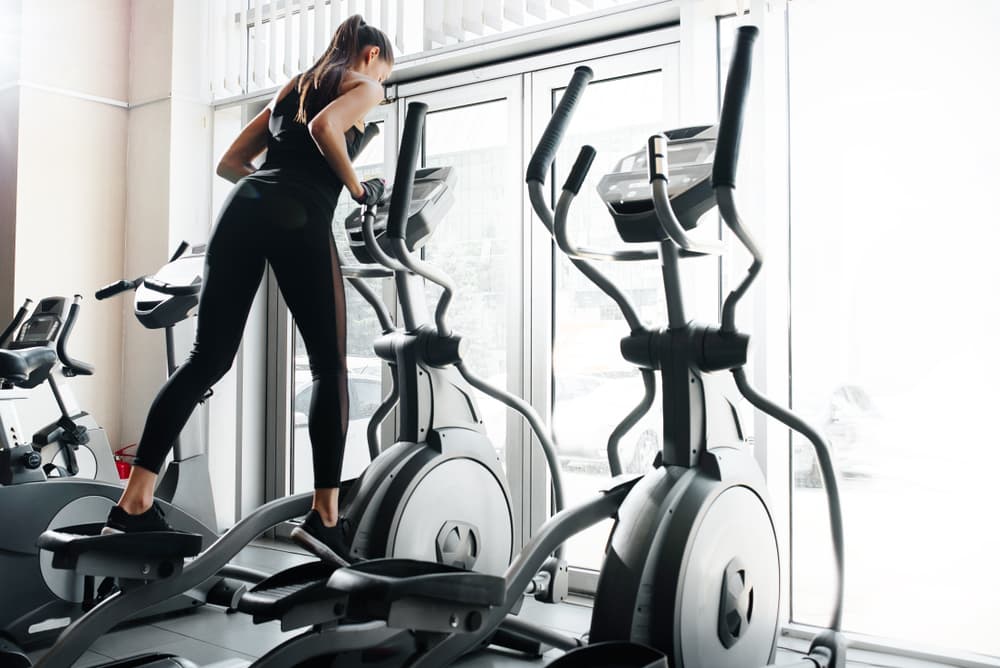 Aside from the treadmills and stationary bikes at your local fitness center, the next most popular piece of cardiovascular equipment that you'll find (that may or may not have a waiting line) is the elliptical. Used frequently by both gym-goers and home exercisers, ellipticals are a fabulous choice of workout equipment that will not only get your heart pumping and blood flowing, but does so in a way that has hardly any impact on your joints. Let's look at some of the amazing benefits of this highly adaptable elliptical machine!
Ellipticals Are Low Impact Exercise
One of the biggest reasons why people love this machine, especially those individuals who have joints that hurt, is that they can boost their cardiovascular health while putting a very low amount of impact on their joints. Unlike exercises such as running or step aerobics, training on an elliptical takes it easy on your joints – particularly those of the ankle, knee, and hip. Both feet are continuously on the pedals, making this machine perfect for a heart pumping workout without all the pounding.
Balance and Coordination
This probably isn't a top benefit that comes to mind when you think of an elliptical, but if you're needing to improve your overall coordination and balance, the elliptical is perfect! This can be done by limiting the use of the handles, which needs to be done slowly and over time so that you can learn to balance appropriately. Keeping your speed manageable and the incline low can help you build up a good base of balance; just remember to go at your own pace, and use the handles when necessary to avoid falling!
Total Body Workout On The Elliptical
For many people, hopping on the elliptical turns into a lower body workout – and that can certainly be the case, if you don't want to use the handles! However, this machine is also highly beneficial for working both upper and lower body at the same time. This can be tricky though, especially if you let your legs end up doing more of the work than your arms. To keep both upper and lower body benefits going, ensure that you're pumping the handles with your arms just as hard as your legs are working with the pedals. This will cause muscles such as the glutes, quads, hamstrings, shoulders, triceps, lats and core (just to name a few) to all work together to propel you efficiently through your workout!
Cardiovascular Health Benefits
Since guidelines are recommending that adults get at least 150 minutes of moderate activity each week (30 minutes, 5 days a week), choosing a machine like the elliptical to knock out those minutes is key for boosting heart health! The muscles around your heart are strengthened by cardiovascular activity like using an elliptical, and this in turn can improve heart rate, blood pressure, and overall stamina and endurance.
Add Variety To Your Workout Routine
One of the biggest reasons that people stop doing their exercise programs is due to one thing – boredom. Thankfully, with a machine like the elliptical, you can pick and choose from a multitude of workout programs so that you are constantly being challenged! From heart rate training and hill climbs to interval training and active recovery, ellipticals are perfect for letting you pick and choose just the right conditions for your workout. With programs that allow you to play with both your resistance and incline, the elliptical will allow you to have a large variety of exercise routines to pick from so that you don't fall into the boredom trap.
These are just a few of the benefits of an elliptical machine; not only can you use this machine to get a killer cardiovascular workout in, but you can also use it for days that you're on recovery – or even if you're rehabbing from an injury. Just make sure you have the machine set up properly before use, and you're on your way to a low impact, stress free workout!