The ProForm Tour De France series includes the following home exercise bikes:
| | |
| --- | --- |
| ProForm TDF Pro                             | $1,699             |
| ProForm TDF Bike | $1,499 |
The Tour De France exercise bike series has top-of-the-line home stationary bikes made by ProForm, a member of the ICON Fitness family. With our exclusive coupons, you can save 5% on your purchase.
Add Coupon Savings To Current Sales Events and Promotions
At any time of the year, no matter the promotions offered by ProForm on their website, you can still activate a ProFormPromoCodes coupon for an additional 5% savings on your home exercise bike purchase. ProForm runs many promotions, sales, and special discounts throughout the year. While some coupons cannot be applied to sale items, the ProFormPromoCodes coupon can be added to any ProForm home gym equipment, no matter the current site promotion.
How To Use Our Coupon To Save 5% On Your Purchase
Our coupons really work and they're almost too easy to use. Three clicks are all it takes to save 5% on your TDF bike purchase.

Click on our coupon banner. You'll be redirected to ProForm.com.
Add a Tour De France road series bike to your shopping cart.
Continue to 'Checkout' to complete your purchase.
View your ProForm Promo Code discount before finalizing your purchase.

Get To Know The ProForm Tour De France Bike Series
ProForm currently has two bikes in the Tour De France series, with the major difference being the touch screen display on the Pro. They are excellent home exercise bikes that do a great job of mimicing outdoor terrain with their ability to incline and decline for added resistance.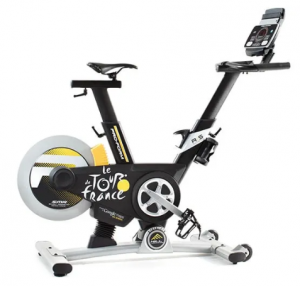 ProForm Tour De France (TDF) Bike
Regularly Priced at $1,499
LCD Display
Inertia-enhanced Flywheel
-15% to +15% Incline Range
Get 5% Off Your ProForm TDF Bike
Learn more about the ProForm TDF Bike
ProForm Tour De France (TDF) Pro
Pricing Ranges From $1,699-$2,499
10" HD Touchscreen
26 Resistance Levels
-20% to +20% Incline Range
Get 5% Off Your ProForm TDF Pro
Learn more about the ProForm TDF Pro
Tour De France Exercise Bike Perks
Indoor Training – The Tour De France bike from ProForm is an excellent bike for indoor training. Adjustments make it possible to mimic the serious athlete's road bike. iFit integration allows you to ride your outdoor route indoors, with automatic incline adjustments to meet the natural terrain of your outdoor route.
Group Exercise – The Tour De France is iFit capable. Open iFit on a portable smartphone or tablet and connect to the TDF via Bluetooth. Follow along with instructor-led rides and spin classes. iFit will automatically control the incline and resistance of your TDF to following along with the class.
Order Straight From The Manufacturer
While you may be able to find ProForm equipment at physical stores or on websites other than ProForm.com, there is usually a downside to buying ProForm equipment from these providers.
Limited Warranties. Warranties may be subject to the sellers' limitations. They are often not as extensive as the original ProForm warranty.
Less Common Models. Major companies will occasionally make less expensive or store-exclusive models of their equipment for selling at a physical location or website that is not exclusively ProForm.com. These models can be harder to find replacement parts for and lack some of ProForm's most impressive features.
Different Return Policy. Returns are subject to the store where you purchased your ProForm equipment.
Many manufacturers are transitioning to selling their products solely through their websites and relying less on physical retail stores. This will benefit the company AND its customers in a few ways. Purchasing ProForm equipment directly from ProForm has the following benefits:
Free iFit. Customers can receive a free 30 day subscription to iFit with the purchase of certain ProForm equipment.
Better Customer Service. You'll have an easier time getting help with your ProForm equipment when you need it if you've ordered the equipment directly from ProForm. They already have your info and can help quickly with any troubleshooting you may need.
Longer Warranties. The factory warranty is typically longer when you purchase equipment from the manufacturer because they handle 100% of the production, shipping, transportation, and delivery.
More Options. ProForm offers their full line up of equipment on their website so you have more options to consider when shopping for treadmills, exercise bikes, ellipticals, and other cross-training equipment like rowers.
Financing Available. ProForm offers financing making it easier to bring home your own cardio equipment, sooner.
ProFormPromoCodes.com Saves Shoppers 5% On ProForm Equipment $899+
If you find yourself interested in any piece of ProForm home gym equipment, you can still use our coupon to get 5% off of any purchase over $899. This coupon can be used for ProForm treadmills, exercise bikes, ellipticals, and rowers. Even if the piece of equipment you want is on sale, the coupon can be used in combination with current promotions as long as the total is $899 or higher.