Those people who are looking for an affordable folding treadmill may want to consider the ProForm 505 CST. This treadmill is small and compact, with a light but sturdy frame. It can be easily moved around once folded up, making it an excellent option for those who are limited on space.
The console on the 505 CST has a simple layout, making it appealing for those who don't need all the latest fitness gadgets. All the incremental speed and incline buttons are easily accessible, as are the built-in exercise programs. There is a tablet holder mounted at the top of the 505 CST, so you can enjoy entertainment as you work out. You can even sync your tablet up to the treadmill so that you can use iFit Coach on the 505 CST.
We would recommend this treadmill predominately for walkers and light jogging. It is not meant for serious runners looking to fit in HIIT workouts, as it has a top speed of 10 miles per hour (MPH) and an incline range of 0%-10%, as well as a 2.5 CHP motor. However, these restrictions are perfectly fine for those who want a reliable walking treadmill.
At the usual price of $999, the ProForm 505 CST treadmill is a good deal. If you want to improve on that price, be sure to take advantage of our ProForm coupon.   
Add coupon here
User Reviews Of The 505 CST Treadmill
Here at ProForm Coupon, we aren't the only ones who love the 505 CST treadmill. Many other people who have purchased this affordable treadmill have left glowing reviews on ProForm. We have listed some of what people have said about the 505 CST below:
"After much research, we decided on this model. Looking for a nice mid-range walker/runner and this seems to be it. Wanted a machine with 10 speeds and elevations. Didn't need too many bells & whistles. 4-5 times a week my wife walks about 2-3 miles and I run about 3 miles around 6 to 7.5 speed. Wanted the longer and wide belt and this is just right."
"Bought this treadmill for my wife for Christmas, and she loves it. She uses the machine 3 to 4 times a week, and have nothing but good to say about it!"
"This machine is very sturdy and worth the cost. I've used it for about two months now and it hasn't had any issues. It's not noiseless but it's also not a really loud machine when it's in use…The width of the walking tread is really good and not cramped. You are able to set the speed for .1 increments at a time which is nice if you want to just increase your speed by a small amount…I would highly recommend this machine.
"A really great treadmill that is an everyday workhorse…We even got our treadmill on sale so this was really a great deal. We are happy with it, simple, easy to use, and provides a smooth run or walk."
While the 505 CST isn't on sale right now, if you are interested in picking up this treadmill up at a great price, make sure you grab our ProForm promo code to land you a discount.
The ProForm 505 CST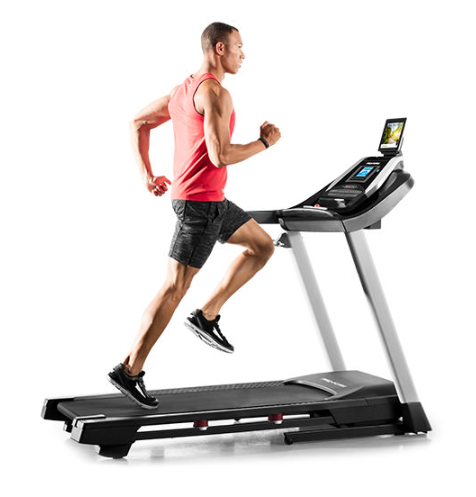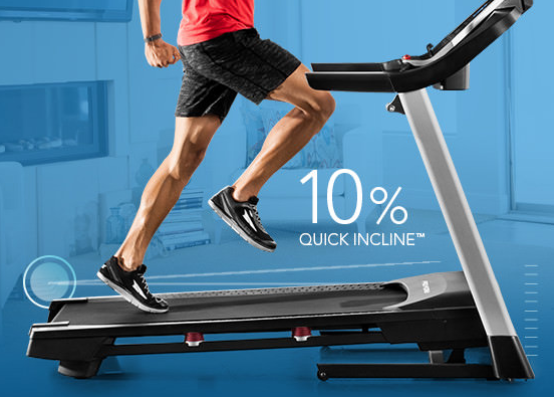 The treadmill walking belt area of the 505 CST measures 20" wide and 55" long, giving users a comfortable area for running. It may be a little short for those over 6'2" but for everyone below that height, the treadmill walking belt area should be comfortable.
Another great aspect of the 505 CST is the incline range of 0%-10%. With the incline range, you can push your body harder. Even if you are only using this treadmill for walking, by using the incline feature, you can burn calories faster when walking at an incline.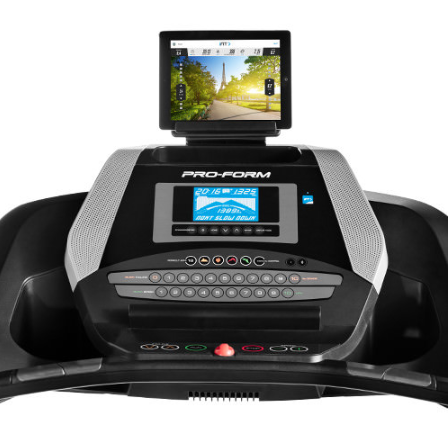 A single person can easily fold up this treadmill. There is a spring-loaded pin to secure the deck in the upright position and wheels on the base that you can use to put the treadmill away after using it.
While you are using the treadmill, you can track your workout data on the bright blue and white 5" display screen. To keep yourself entertained, you can place your tablet in the adjustable holder above the console or sync it with iFit Coach. Once you are using iFit Coach, you will have far more workout data you can use to improve your exercises.
The ProForm 505 CST Treadmill Features
Before you purchase any piece of workout equipment, we recommend you carefully examine the features it comes with to be sure it will suit your needs. We have listed the current features of the 505 CST has so you can make an informed decision.
Price – $999
Display – 5" Backlit screen
Motor – 2.5 CHP Mach Z™ Commercial Plus Motor
Exercise programs – 18 built-in workouts
Incline range – 0% to 10%
Speed – 0-10 MPH
Max weight user – 325 lbs
iFit Coach capable – Yes, able to sync
Fans – No
Treadmill belt – 55" Long by 20" Wide
Machine dimensions – 36.5" Wide by 73.5" Long by 61" Tall
Deck cushioning – ProShox Cushioning
Heart rate tracking – EKG handlebar grips
iFit Coach Integration On the 505 CST Treadmill
Using a smart device with Bluetooth, you can sync the 505 CST with iFit Coach. When the device is successfully paired, a light on the console will appear above the iFit Coach sticker. Through iFit Coach, you can:
Work out with a variety of virtual personal trainers on hundreds of exercise programs. Your treadmill will change speed and incline automatically to follow the personal trainer, which can push you further than you normally would.
Your iFit Coach workouts are automatically synced with the iFit Coach dashboard. Through using the dashboard, you can track your fitness progress, nutritional intake, and your sleep patterns for an overall view of your health.
Exercises can also be done off of the 505 CST. You can follow trainers through meditation exercises, kickboxing workouts, and other types of workouts all by accessing iFit Coach from a device with internet access.
You will need to purchase an iFit Coach membership separately from your 505 CST treadmill.
ProForm 505 CST Warranty & Return Policy
The ProForm 505 CST warranty covers different aspects of the treadmill for varying amounts of time.
Lifetime coverage of the frame
Twenty-five years warranty on motor
One-year warranty on labor and parts
A warranty from ProForm only extends to the original buyer of the Power 505 CST and needs to be registered on ProForm to receive the benefits of being warrantied.
As for the return policy, you have 30 days to decide if you want to return the 505 CST. If in that time frame you choose to return the 505 CST, you will need to call 1-866-896-9777 to arrange a return of your treadmill. This return arrangement needs to take place before the 30 days are over. Before you call, make sure you have:
The model number of your treadmill.
The serial number for your specific machine.
The reason why you are choosing to return.
Once the return has been authorized and you receive a Return Authorization Number, you will need to disassemble and repackage the treadmill yourself. All items that receive a Return Authorization Number need to be sent back within 30 days of receiving the number for the return to be accepted. Your return will be processed within 30 days of ProForm receiving the returned treadmill at the warehouse.
If the treadmill was defective or damaged when you received it, you will be able to return the defective/damaged treadmill with no charge. However, your refund will be charged a 10% restocking fee for returned treadmills in good working order, as well as have shipping fees taken out of your refund.
ProForm Promo Code Can Help You Save on The 505 CST
Here at ProForm Coupon, we want to help everyone save money on the best fitness equipment available. That's why we are proud to offer the only real ProForm discount code to our readers. With this coupon code, you can receive a 5% discount on any ProForm merchandise if your cart total equals $899 or more.
So, if you are ready to jump on purchasing the 505 CST or any other ProForm equipment, be sure you grab our promo code before you go.  
Add coupon here