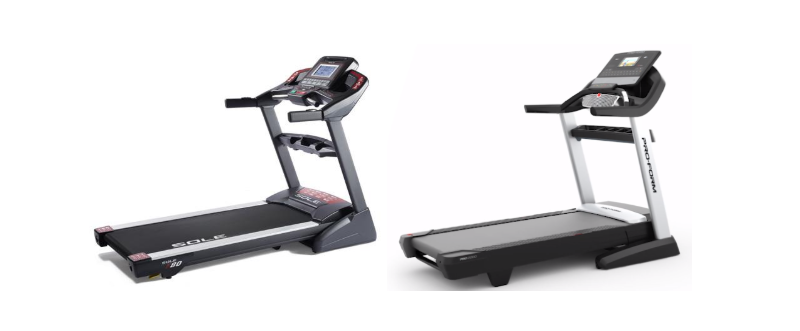 These two treadmills are similarly priced close to $1500. But you may be wondering why? Let's take a look at the differences between these two treadmills to understand why the ProForm Pro 2000 is such an excellent home treadmill.
Why Compare The ProForm Pro 2000 and The Sole F80?
The Pro 2000 retails for $1399-$1599 and the F80 can be purchased for $1399-$1499. These are both popular home treadmills and their price tags are very similar. But that doesn't necessarily mean you'll be getting the same from both treadmills.
We will break down the crucial differences between these two treadmills to show you why the Pro 2000 is a fantastic option.
Direct Feature Comparison: Pro 2000 vs. F80
Features
Price
Motor
User Weight Capacity
Speed
Incline
Console Display
Footprint
Workout Programs
Subscription App
Treadmill Belt
Warranty


Folding
Fans
HR Monitoring


Treadmill Weight
Pro 2000
$1399-$1599
3.5 CHP
300 lbs
12 mph max
-3 to 15%
7" HD Touchscreen
70" H, 77.2" L, 39.5" W
35+
iFit Coach
22" wide by 60" long, 2-ply
Frame and Motor – Lifetime
Parts – 5 Years
Labor – 2 years
Yes
Yes, 4 speeds
EKG pulse grip monitors
Bluetooth HR chest strap – capable, not included with purchase.

320 lbs
F80
$1399-$1499
3.5 CHP
375 lbs
12 mph max
0 to 15%
LCD
57" H, 82" L, 37" W
10
SOLE Fitness
22" wide by 60" long, 2-ply
Frame and Motor – Lifetime
Parts – 5 Years
Labor – 2 years
Yes
Yes, single-speed
Pulse Grips & Chest Strap


278 lbs
Deciding Between The Pro 2000 and The F80
The ProForm Pro 2000 has much better tech than the Sole F80. While they are similar in build, the display, ob-board workouts, and apps that pair with these treadmills are vastly different.
The Display – The Pro 2000 has a 7" HD touchscreen display. This display is highly responsive and provides crystal clear imaging on your workout videos.
On-Board Workouts – The Pro 2000 comes equipped with over 35 on-board workout options. This treadmill goes beyond the 10 standard programs found on outdated treadmills and offers a workout that's current with today's fitness education and tech standards.
Subscription Services and Apps – The Pro 2000 offers integration with iFit Coach. This app suite allows you to select workout programs, schedule a routine, track activity, and nutrition. It also provides you with hundreds of more workout videos and programs that can all be accessed from a mobile device or directly on your treadmill display.

If you are ready and interested in buying the ProForm Pro 2000, you can use one of ProForm Promo Codes exclusive coupons.