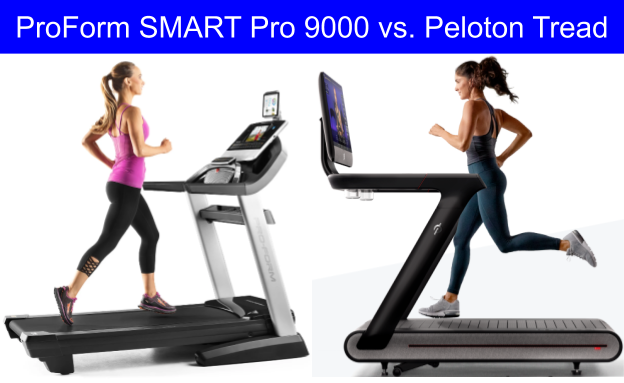 As you get ready to invest in a new treadmill, comparing treadmill models is key to finding the right treadmill for your needs.
Two treadmills you may be torn between are the Peloton Tread vs. the ProForm SMART Pro 9000. These treadmills are high-end treadmills for runners and aspiring runners alike, but they vary widely in price, making it difficult to know which one to choose.
Why Compare The Peloton Tread To The SMART Pro 9000
You probably know by now that the Tread treadmill costs far more than the SMART Pro 9000. While the price point difference can put the SMART Pro 9000 at a slight disadvantage, not everyone can drop over $4,000 on a treadmill, which is almost what the Tread costs for the cheapest package.
So, if you are torn between buying the Tread and likely setting up an expensive 2-year payment plan or choosing the far more affordable SMART Pro 9000, ProForm Coupon wants to help you see if there really is that much of a difference between these two treadmills when it comes to their features.
Direct Feature Comparison: Peloton Tread vs. SMART Pro 9000
It's easy to become caught up with fancy packaging and well-shot pictures. But much of what makes up a good treadmill is the features that are built into them. Below is the SMART Pro 9000 vs. Peloton Tread to give you a clear idea of how these two treadmills directly compare to each other.
Features
Price
Motor
Manual Mode
Top Weight Limit
Speed
Incline
Console Display
Footprint
Fan
Folding
Workout Programs
Subscription App
Treadmill Belt
Belt Measurements
Controls
Warranty

Peloton Tread
$4,295 and up
2 HP
Yes
300 lbs
0.5-12.5 MPH
0% to 15%
32" HD touchscreen
72.5" L x 36.5" W x 72" H
N/A
N/A
3 sample programs
Peloton Digital ($39/month)
Slat belt
20" W by 67" L
Wheels
5-years frame coverage,
1-year parts, touchscreen,
and labor

ProForm Pro 9000
$1,999
4.0 CHP
N/A
300 lbs
0.5-12 MPH
-3% to 15%
10" Smart HD touchscreen
77.16" L x 39.15" W x 70" H
Yes, two-speed
Yes, EasyLift Assist
40 built-in
Free year of iFit Coach
2-ply, standard treadmill belt
22" W by 60" L
Flat button controls
Lifetime frame and motor warranty,
5-year parts coverage, and 2-year
labor warranty.

How To Decide Between Peloton Tread vs. SMART Pro 9000
As you can see, there are some pretty clear differences between the Tread vs. SMART Pro 9000 treadmills, with a surprising amount of similar features, even with widely different price points. After seeing the majority of these treadmills features side-by-side, you most likely have a better idea of what treadmill you are more interested in.
To help you refine exactly whether to bring the SMART Pro 9000 home or the Peloton Tread, here are some questions to ask yourself:
What is your desired treadmill budget? Your treadmill budget should be one of the guiding factors of your decision. We do recommend investing in a good treadmill, rather than repeatedly re-buying cheap and low-quality treadmills. However, you shouldn't have to go into massive amounts of debt to workout.
Do you need a folding treadmill? If space may be an issue if you buy too large a treadmill, then the Tread may not be the best idea. While the footprint of the Tread is a bit smaller than the SMART Pro 9000, the Tread can't fold, and the SMART Pro 9000 can fold easily.
Is cushioning important for you with your new treadmill? Some people enjoy the unique slat belt on the Peloton Tread, and it has enough cushioning for them to comfortably work out. However, if you have sensitivities to hard surfaces, the rubberized aluminum slat belt may not be overly comfortable, where the SMART Pro 9000 comes with ProShox cushioning.
Have you considered the subscription apps for both machines? You don't get any workout programs built into the Tread, except for the 3 sample programs and manual mode. Yet, on the SMART Pro 9000, you have 40 built-in workout programs that you can use. Also, you need to pay for the Peloton Digital subscription from the start, rather than having a free year to use iFit Coach on the SMART Pro 9000.
If you are interested in buying the ProForm SMART Pro 9000 over the Peloton Tread, then be sure to snag our ProForm promo code to get an even better deal.