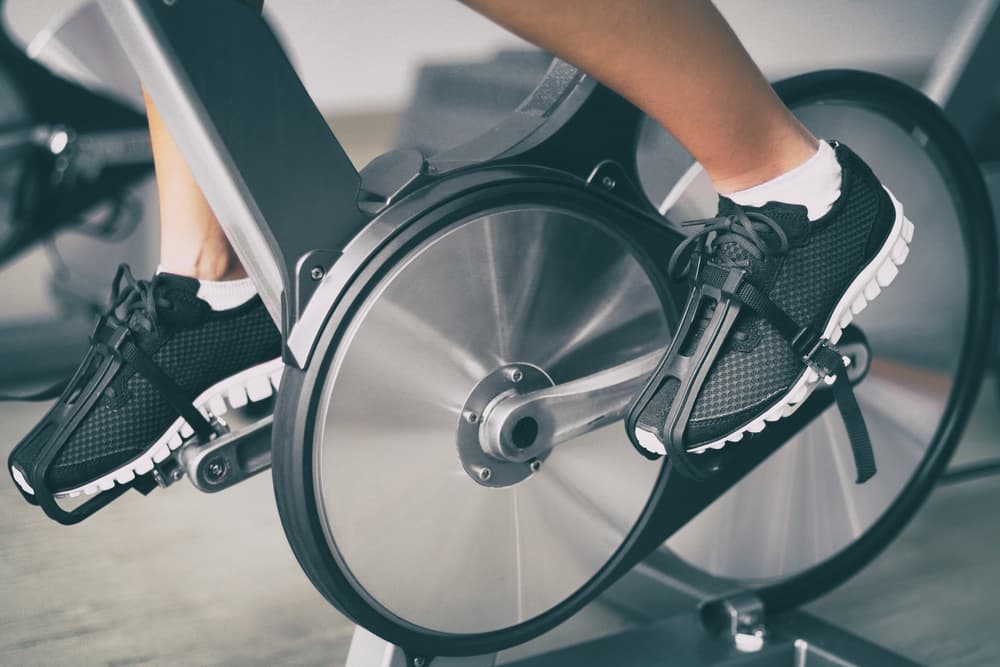 If you are on the lookout for a new home exercise bike, you might be overwhelmed by all of the choices out on the market. Two of the top brands that come to mind are probably Bowflex and ProForm, although there are plenty of others to choose from, such as NordicTrack, Echelon, and Peloton. We wanted to take a closer look at ProFrom and Bowlfex compared against each other. With these two companies, you'll find a good range of prices and fitness equipment to suit your needs and goals. Let's compare the ProForm Studio Bike Pro to the new Bowflex Velocore Bike, and you can determine which is best for you!
Pros And Cons Of The Proform Studio Bike Pro
This sturdy studio bike is made from steel, and has a weight capacity of 250 pounds. The handlebars offer several different options for grip, and the flywheel is silent due to magnets used for resistance. The touchscreen is 10", and can move side to side with an optimal full-color display. This studio bike also has up to 22 levels of resistance, so the rider can pick and choose with ease just how easy or difficult they want the workout to be!
On the flip side, the handlebars are not padded on this studio bike, so you might need to use a towel or shirt to cushion your arms if you're uncomfortable leaning forward on the grips. These handlebars also only move up and down, not forward and backwards, which can be awkward for sizing. Lastly, because this bike only holds up to 250 pounds, it might not be suited for every rider out there.
Pros And Cons Of The Bowflex Velocore Bike
This new bike from Bowflex boasts one particular feature that you don't see on very many stationary bikes – and that is that it can lean while you are pedaling. This can be a huge plus for those consumers looking to get more core engagement and stability out of their bike rides! The Velocore has a weight limit of 325 pounds, and has two choices of screen sizes – 22" and 16". There are several different handlebar grip options as well, and the flywheel is magnetic resistance.
Consequently, the leaning feature on this particular bike isn't for everyone and can be a deterrent for those just looking for a regular ride on an indoor bike. There is also access to streaming programs like Disney Plus and Netflix, which can start to add up if you aren't looking for entertainment or the monthly fees that come along with these programs.
Subscription Content
Getting more in-depth with digital programming is par for the course with many fitness machines lately; this can be both a good and bad thing, depending on how much virtual interaction you want while you're riding.
With the ProForm Studio Bike Pro, you're actually able to get your bike for free – but, this is at the cost of purchasing an iFit membership at $39 a month for three years. With this iFit membership, you get access to riding routes located all over the world, cycling classes, workouts with a personal trainer, and even options for fitness classes that you can do without being on your bike.
The Bowflex Velocore bike doesn't have the iFit subscription option, but it does allow you to stream directly to the bike screen through options like Hulu, Netflix, Amazon, and Disney, giving you the ability to catch up and watch your favorite shows and movies as you are working out! Along with the ability to stream your favorite show, Bowflex has recently created the built in JRNY subscription service for this bike. As well, you are also able to use multiple apps, allowing you access to apps like Peloton and many others.
While both bikes will give you a fantastic workout, you'll need to decide whether or not you want the leaning feature that is available with the Bowflex, or if you want more of a regular ride with the ProForm bike. Another aspect to take into consideration is the technological aspect of both bikes, and whether you want access to the options from an iFit subscription, or if you'd like the chance to catch up on some shows while you're riding. Either way, you'll have a blast burning some calories and boosting your heart health with either bike!