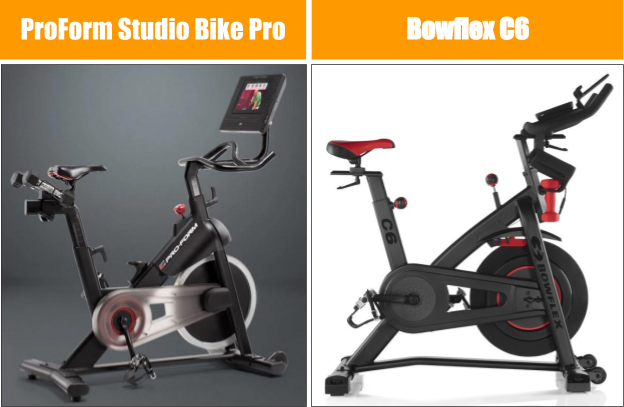 When looking for a new exercise bike that is both high-quality and affordable, the fitness manufacturers ProForm and Bowflex often come to mind first. At this time, the exercise bikes that best balance quality features with price are the ProForm Studio Bike Pro and the Bowflex C6 stationary bikes.
Why Compare ProForm Studio Bike Pro vs. Bowflex C6
One of the key reasons why we compare any home fitness equipment to each other is their comparable price points. At this time, the C6 costs $949, while the Studio Bike Pro is priced at $999, making these bikes a natural comparison to make for consumers looking for the most bang for their buck.
Another reason is that currently, Bowflex only has one bike they are offering, the C6. While there are more ProForm bikes we can compare the C6 to, it made sense to choose the comparably-priced Studio Bike Pro to accurately stack these two competitor bikes against each other.
Measure The Features Of The C6 vs. The Studio Bike Pro
An easy way for you to get a quick idea of how each bike looked compared to the other, we have created a chart of the features on the Studio Bike Pro vs. C6 features.
Feature
Bowflex C6
ProForm Studio Bike Pro
ProForm Studio Bike Pro
$949
$999
Display
Backlit LCD
10″ smart HD touchscreen
Resistance Type
Magnetic resistance
Silent magnetic resistance
Resistance Levels
100 micro levels
22 digital levels
Fitness App
Multiple third-party
iFit Coach, free year
Frame
Upright
Upright, commercial-grade
Seat
Road bike style
Ergonomic, padded
Pedals
Dual link with toe cages
Clip-in and optional toe cages
Weight Limit
330 pounds
250 pounds
Footprint
48.7″ L x 21.2″ W x 51.8″ H
56.5″ L x 21.9″ W x 52″ H
Warranty
10-year frame
3-year electrical & mechanical
1-year labor
10-year frame
2-year parts
1-year labor
Should You Buy The ProForm Studio Bike Pro Or Bowflex C6
As you can see from the features breakdown, there are some clear areas where the Bowflex C6 differs from the ProForm Studio Bike Pro. But a simple list isn't enough to tell you what those differences mean.
Let's start with the display and fitness app differences, as these two things are tied together. The C6 only has a small LCD screen for you to track your workouts. If you want to use a third-party fitness app, you will have to supply your own tablet. Also, you will need to purchase a subscription separately. The C6 is compatible with the Zwift app, Peloton app, World Explorer app, and some other data tracking apps.
On the other hand, the Studio Bike Pro comes with a 10″ smart HD touchscreen as part of your bike console. This touchscreen not only makes your workouts more accessible, but it is also bundled with a free year of access to iFit Coach. That way, you can fully experience what it is like to use iFit Coach before you ever consider purchasing.
The C6 offers a more comprehensive weight limit than the Studio Bike Pro, allowing for heavier users to find a quality exercise bike. This difference in weight capacity isn't reflected in the construction of these stationary bikes, and both are well-built. So, as long as you are in the right weight range, you can feel confident using either bike.
Lastly, we want to touch on the seemingly huge disparity when it comes to resistance. Both bikes use magnetic resistance, but the C6 seems to blow the Studio Bike Pro out of the water, offering 100 resistance levels! However, these resistance levels are micro-levels that are accessed by turning a knob, so it can be difficult to quickly achieve the resistance level you want.
Also, as they are micro-levels, the difference between level 20 and level 30 is not as large as you would get with digital levels. With the 22 digital resistance levels available on the Studio Bike Pro, you can easily adjust your resistance level with the touch of a button, no knob turning required.
So, if you end up preferring the Studio Bike Pro, be sure to pick up our ProForm promo code to help you save on your purchase of this excellent exercise bike.