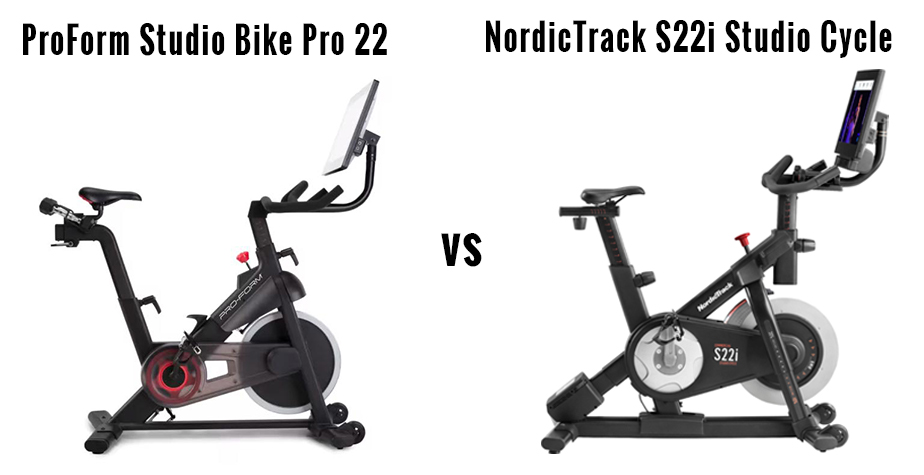 If your cardiovascular activity of choice is cycling, you know this low impact workout is perfect for keeping you healthy and improving your overall mental and physical well being.
Not only does cycling help to boost your endurance levels, but it's also easier on your joints (than running or jumping). It also aids in weight maintenance, gets you outside and soaking up some Vitamin D, and improves your core strength and stability.
But what happens when you can't cycle outside due to crummy weather or other factors? That's where an indoor bike comes in handy – especially one that you can fit into your home studio or gym.
Although there are plenty out on the market today, only a select few are worth the investment – and it can be an enjoyable lifelong investment at that if you get the bike that fits all of your specifications.
ProForm and NordicTrack are two of the top leaders in the fitness equipment industry, and bikes for indoor cycling are no different. Let's take a look at the ProForm Studio Bike Pro 22 and compare it against the NordicTrack S22i Studio Cycle bike, and it might give you a better idea as to which is best for you and your goals.
ProForm Studio Bike Pro 22
This studio bike from ProForm is priced at $1,499 and includes a membership with iFit for a year for the entire family. This technology allows you access to multiple types of workouts with a trainer of your choice and streams for each person in your family.
This interactive training experience is displayed on a 22" high definition touchscreen, and the screen can swivel on the bike so you can do workouts both on and off the saddle – whether it's interval training, strength work, or even yoga!
This particular bike is adjustable to fit just about anyone, with a seat that can move through ten different positions and handlebars that can adjust up or down. The pedals are interchangeable and can be utilized with the toe cages if desired.
With twenty-four levels of resistance to choose from and silent magnetic resistance, you're able to get the workout of your desired intensity – all while pedaling quietly.
NordicTrack S22i Studio Cycle
A commercial studio bike from NordicTrack, this machine comes in at $1,999 and also includes a membership to iFit for one year for the family.
With virtual trainers that can have you exercising in different countries and bumping up your resistance as you go through your workout, it's a win for everyone on the membership! Trainers can also adjust the incline and decline on your bike, making it the perfect workout for you.
iFit activities are streamed live on a 22" high definition touchscreen, giving you the option to do beginner trails, interval training, and boot camp-style workouts – just to name a few.
The touchscreen can swivel, so you can perform workouts both on and off of the bike, which is perfect since there is a set of three-pound dumbbells included with the S22i Studio Cycle.
This particular bike can also have a 20% incline and a 10% decline, making it similar to road conditions than pedaling a flat route. The seat can be adjusted horizontally and vertically, and the handlebars can be placed in multiple positions, making the bike adaptable to just about any rider.
With twenty-four levels of resistance and silent magnetic resistance, you're able to get a ride at your own pace – and within the quiet of your own home, if desired.
How to Choose Your Perfect Bike
If you're looking to compare the cycling bikes on the market today, see if the ProForm Studio Bike Pro 22 or the NordicTrack S22i Studio Cycle fit your requirements for in-home fitness equipment.
Both bikes will allow adjustments for multiple riders, lets you engage with virtual trainers (and get access to tons of different workouts) with the convenience of an iFit membership, and will get your heart pumping and blood flowing by the time your training is complete!