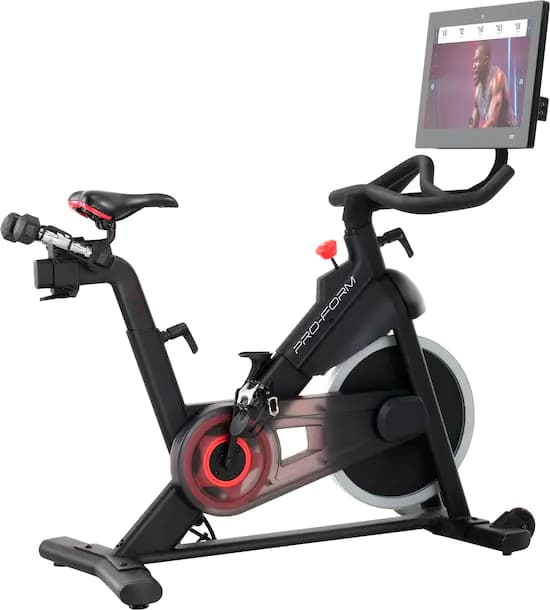 Stationary bikes are perfect for home and gym use; they are user-friendly and adaptable to novice and elite exercisers. Stationary bikes are also beneficial when the weather isn't the best for cycling outside or other factors such as time of day/safety are an issue.
Stationary bikes are considered a low-impact workout option, ideal for participants with ankle, knee, or hip injuries. Even though it's a low-impact activity, biking is known for strengthening the muscles of the lower body, increasing endurance, and boosting mental health!
There are multiple stationary bikes on the market; today, we've narrowed down two bikes from ProForm and Life Fitness and compared and contrasted them. Check out the details, and then see if one fits your fitness and wellness goals and needs.
ProForm Studio Bike Pro 22
The Studio Bike Pro 22 from ProForm currently retails for $1,299 and includes access to the iFit community for 30 days after purchase (typically $39). The iFit platform allows the streaming of thousands of workouts at the touch of a button!
Interval training, strength workouts, HIIT, and even yoga and meditation classes are available throughout the day. Virtual trainers are also accessible and can adjust the 24 digital levels of resistance virtually during a class if desired. All of these components can be viewed on the 22" touchscreen on the Studio Bike Pro.
Both the handlebars and the seat can be adjusted to the comfort of each user, and the pedals are interchangeable with optional toe cages. If you're looking for strength work off the bike, a pair of 3-pound dumbbells are included and are conveniently attached to the bike for easy access.
The front-mounted transport wheels are perfect if you need to quickly move the Studio Bike Pro 22 out of the way or move it from one room to another for your workout. Once moved, you can use the adjustable leveling feet to ensure stability on different surfaces! With a 250-pound capacity, this Studio Bike is sure to be an excellent fit for everyone in your family!
Life Fitness Ride CX Bike
The Ride CX Bike from Life Fitness currently retails for $1,499. You can then download the ICG app, which gives you access to group exercise classes or solo scenic rides – all of which can be viewed on your tablet or iPhone and attached to the device tray.
In addition, you can track your workouts from the app and participate in over 150 rides, all while being coached virtually. The Coach by Color is your intensity guide, strategically placed on the front of the bike so you can see changes in your heart rate and power while moving through 100 different resistance levels.
The handlebars are road style and made of soft PVC, while the seat is a unisex sport seat that can be adjusted horizontally and vertically if needed. The pedals include a toe cage and are dual-sided.
The transport wheels on the front of the bike allow for easy movement from one room to another, and the four leveling feet can make the Ride CX Bike work on any surface in your home! With a weight capacity of 330 pounds, this bike is perfect if you want to utilize your tablet or iPhone for your workouts and corresponding tracking.
The Bottom Line
Both Proform and Life Fitness make high-quality, immersive exercise equipment. Proform is somewhat less expensive and gives you access to iFit.
If you're looking for exciting, low-impact cardio, either bike will give you an excellent workout!