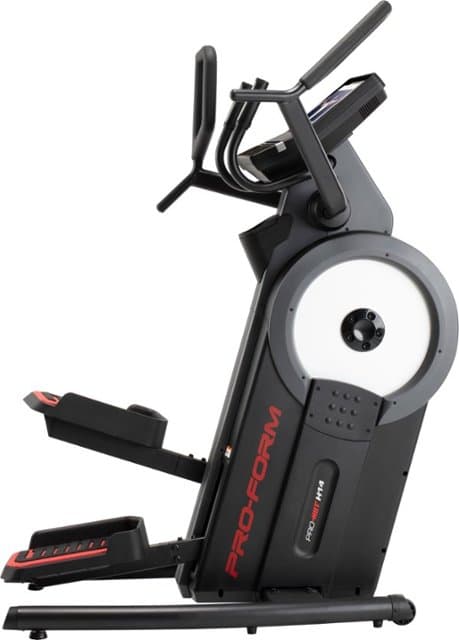 If you're looking to burn calories, strengthen your upper and lower body, and boost cardiovascular endurance while staying with low-impact activities, then look no further than the ProForm HIIT Trainer H14 and The CLMBR!
These machines can work the body effectively to help you reach your training goals while giving you the platform to engage with others in a like-minded community. Let's dive into each machine and get the details to see which is best for you.
ProForm Pro HIIT H14
The Pro HIIT H14 from ProForm currently retails for $1,499 (through September 7, 2022), although the original pricing is $1,699. Regardless, this elliptical – that looks like a stair climber – includes a family membership to the iFit community for 30 days (typically $39 a month).
The iFit platform allows you and your family to view streaming and on-demand classes at your disposal, allowing you to choose a workout from the thousands available. From weight lifting and interval training to yoga and meditations, you're sure to find an activity that will fit you and your goals.
The Pro HIIT H14 allows you to combine strength and cardio, engaging your upper and lower body to deliver a fantastic workout. While classified as an elliptical, the H14 lets your legs move on a 10" vertical path, similarly to a stepping machine, while the 5" path of horizontal movement mimics an elliptical. Combine the lower body motions with moveable handlebars that allow you to activate the upper body, and you've got a full-body training machine!
The virtual trainers cheering you on through iFit can be viewed on the 14" high definition touchscreen. The Silent Magnetic Resistance allows you to work out quietly without disturbing anyone else in your home. Speaking of your home, the Pro HIIT H14 takes up minimal space – about half the footprint of what a regular elliptical machine would be!
The CLMBR
The CLMBR and related equipment have different price ranges, which allows you to choose which bundle you'd like at the time of purchase. For example, the Base Bundle includes the CLMBR machine only for $1,799, while the Plus Bundle consists of the CLMBR machine and a year-long membership for $2,199.
And lastly, the Summit Bundle includes the CLMBR, the year-long membership, and a plethora of accessories such as resistance bands, sweat towels, and a mat, retailing for $2,399.
The CLMBR is tall, standing 7'4". This height allows you to stay almost upright during your workout, and the open frame design allows for fluid movement. The handlebars can be adjusted, while the oversized foot pedals provide stability as you climb.
The motion of climbing, combining movement from both the upper and lower body, allows you to boost cardiovascular endurance and strength – all with low impact on your joints.
Suppose you need a bit of direction with the CLMBR. In that case, the platform allows you to access on-demand music and classes, with workouts ranging from interval training and recovery to endurance training and increasing performance. In addition, you can track your performance over time and engage in friendly competitions with others while improving your health and wellness!
The large format display screen allows you to see your workout screen effortlessly, and the caster wheels make moving the CLMBR from one room in your home to another very simple when not in use.
The Bottom Line
The Proform HITT Trainer H14 is a silent, high-quality piece of equipment for a reasonable price. The immersive and motivating iFit platform makes exercise exciting and fun. You will get a high-calorie burn on a machine with a small footprint.
The CLMBR is also a good-quality machine with on-demand music and classes. The price is higher, but there are several price levels to choose from, depending on your budget.