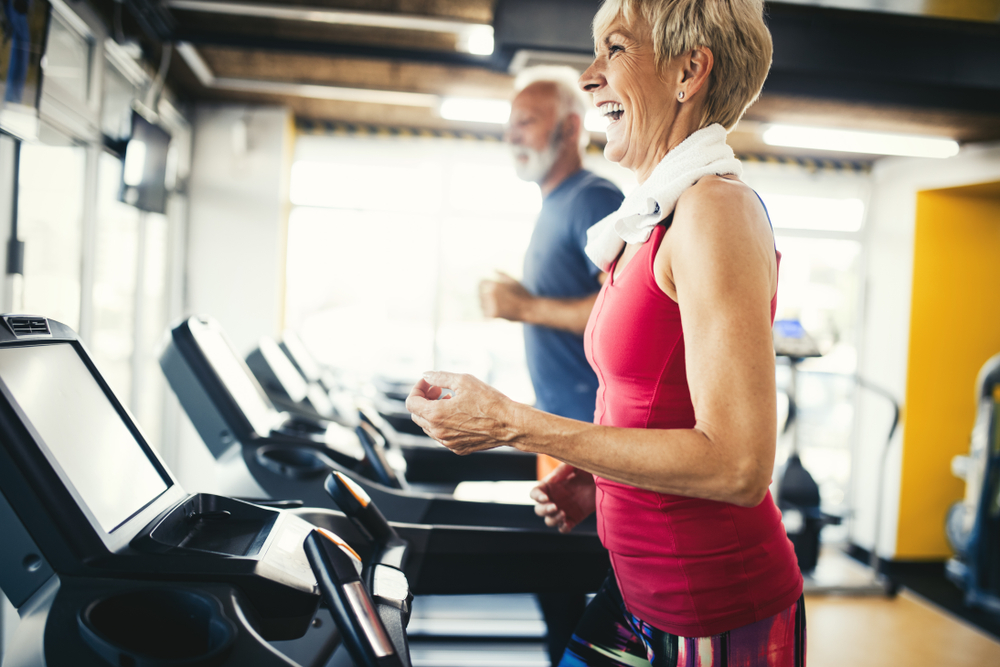 As we age, staying active and incorporating functional movement into an everyday routine doesn't have to be a challenge – in fact, it can be as easy as taking a walk! Whether on a treadmill or outside at your local park, walking is a fabulous way to boost health and reduce the risk of disease. Not only does walking help to circulate blood throughout the body, but it's also a low impact way to strengthen the bones and muscles.
Benefits Of Walking For Seniors
Aside from improving overall health, walking does have more specific benefits, especially for the senior population! Walking has been shown to decrease blood sugar, as well as decrease pain from diseases such as arthritis. Walking also boosts heart health, which can lead to a decrease in blood pressure and cholesterol, if they're high. Lastly, walking is fabulous for your mental state – not only can your mood be uplifted by the endorphins that are generated from exercise, but if you've got a friend to walk with, this can be a social activity as well!
How And Where Should Seniors Walk
While it's nice to get outside and log some steps on your neighborhood walking trails or in a nearby park, sometimes the weather doesn't cooperate – and that's where a treadmill can come in handy. These machines are easily found at local fitness and rehabilitation centers, and can also become part of a little home gym! Being on a treadmill for the first time can seem like an intimidating proposition, especially if you haven't been on one before, so there are some items to look out for while using one.
What To Look For In A Treadmill For Seniors
A couple of the main things you want to look for is the emergency clip. These are usually bright red, and held on by a magnet; you can put it on your shirt or waistband, and it will stop the treadmill immediately in case of a fall. You also want to know where the on/off buttons are, as well as the speed and incline arrows so that you can adjust them accordingly throughout your walk as needed. You will also want a treadmill that doesn't have too big of a motor. A treadmill that is primarily for walking will have less than a 3 Horse-Power motor.
6 Week Treadmill Walking Workout For Seniors
If you're new to walking and would like to boost your overall health and wellness, that's great news! Over a span of six weeks, you'll be able to increase your energy and decrease the risk of many diseases – although, the six weeks is just a start to a lifetime of exercise! Think of your six-week plan this way: Mondays, Wednesdays, and Fridays are your main "workout" days. These three days each week are when you get the most walking in, while Tuesdays and Thursdays can be active recovery days (i.e. 10 minutes of a walk, swimming, or other activities that you enjoy that keep you moving). The weekends are rest days, or are open to have you free for you to do whatever workout you'd like, from walking to yoga to playing with your grandkids!
Take a look at the following six-week plan for improving your walking!
Week 1
Monday and Wednesday: walk 10-20 minutes. Friday: walk 10 minutes.
Week 2
Monday: walk 10-20 minutes. Wednesday: walk 15-25 minutes. Friday: walk 10 minutes.
Week 3
Monday and Wednesday: walk 15-25 minutes. Friday: walk 15 minutes.
Week 4
Monday and Wednesday: walk 15-25 minutes. Friday: walk 15 minutes.
Week 5
Monday and Wednesday: walk 20-30 minutes. Friday: walk 20 minutes.
Week 6
Monday and Wednesday: walk 20-30 minutes. Friday: walk 20 minutes.
This is not a definitive workout plan; the workout days can be moved around accordingly during the week when needed, and more rest can be built in as well. After each session of walking, you want to make sure to do at least 5-10 minutes of stretching/mobility work. This will help to improve your overall range of motion (since those muscles are already warm) and might even protect against injury.
The first couple of weeks of the plan are programmed to have you walk at an easy pace – if you're unsure of what that pace might be, think of it this way. If friends were walking with you, you should be able to keep up a conversation while you're moving without getting out of breath. Dial your speed back a bit if you feel as though you're huffing and puffing within the first few minutes.
If you're feeling inclined, you can even boost up your training a bit toward the end of the six weeks with some interval training (i.e. 1 minute of quick walking, 2 minutes of easy walking, etc.) to help increase your endurance. Just watch your pace, and make sure you're not getting winded too quickly! Enjoy your time on the treadmill, and be prepared to watch your health improve as you continue on your journey!