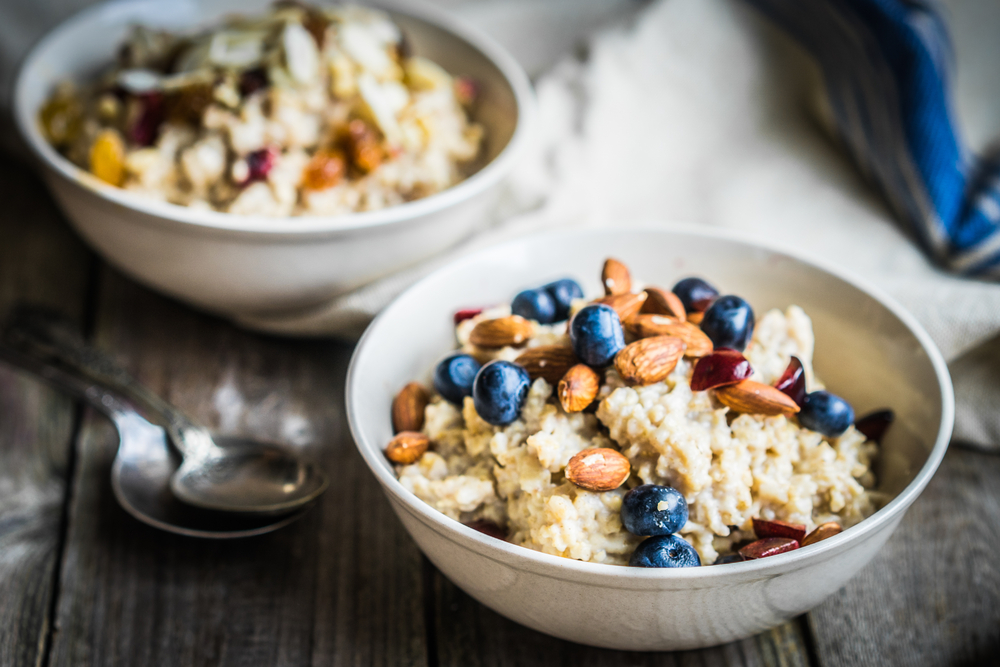 When you have top-notch exercise equipment to use but no energy to use it, it can be frustrating. To help you defeat an energy slump, there are six simple foods you can eat before a workout to boost you up over any energy low.
1. Steel-Cut Oats
Providing you with filling fiber without weighing you down, steel-cut oats also gives you complex carbs which will result in slow-burning energy that will help you through short and long workouts. This snack does take some preparation, but it is worth it if you are trying to find the energy for an endurance workout.
2. Banana
Rich in vitamin C, B-6, and potassium, bananas are a great snack for fueling your workout. It has enough sugar to help raise energy levels but not cause a crash mid-workout. Also, if you tend to experience higher blood pressure when you exercise, a banana eaten prior to your workout can help, thanks to the potassium in it.
3. Pumpkin Seeds
For those who are looking for a plant-based source of omega-3, fiber, and other antioxidants for workout fuel, pumpkin seeds are a great go-to. Like most seeds and nuts, pumpkin seeds can be high in calories, but if you stick to grabbing a small handful, you should be able to make it through your workout without canceling out your calorie burn.
4. Peanut Butter
Packed with protein, satiating fat, and carbs, peanut butter is an ideal source of energy to help you through a challenging workout. It is also is unlikely to upset your stomach if you are going to engage in any aerobic workouts.
If you want to put your peanut butter on something, we recommend using vegetables, fruits, or a slice of whole wheat bread, as these foods can add a complimentary boost.
5. Beet Juice
Another great source of potassium as well as a good amount of carbohydrates and sodium, drinking beet juice before your workout can help support whatever workout you have planned. It also can help regulate your blood pressure.
In fact, regular consumption of beet juice may be able to help with your overall workout endurance, thanks to how nutrient-rich it is when drunk fresh.
6. Green Apples
Green apples can be a refreshing boost after a long day at work before you jump into your workout. While sweet, it should not cause an energy crash mid-workout, thanks to the stabilizing pectin fiber, which keeps the sugar from being rapidly absorbed into your system.
If you have been looking at some ProForm equipment to fine-tune your workout but want to also save money, you can use our ProForm discount code. When applied to your purchase, it will save you 5% off of your total, helping you bring home some of the best workout equipment while enjoying the best savings on ProForm available.