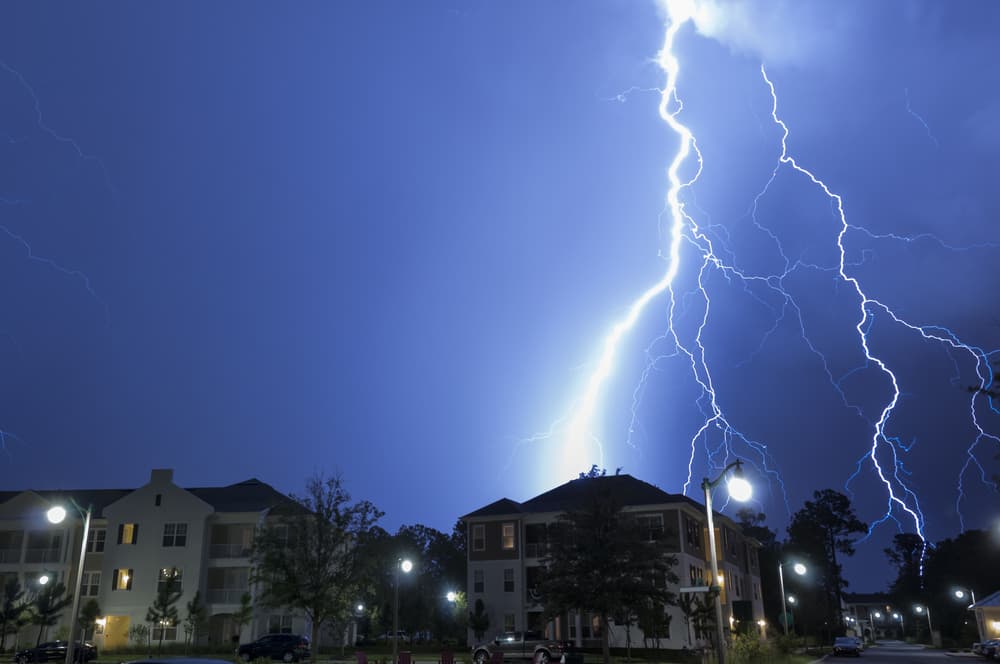 When you purchase a treadmill, a few of the questions that might come to mind are probably related to the treadmill itself – where is the start/stop button, how does the display work, what is the best way to clean the belt, etc. However, once you're comfortable with the workings of your treadmill, you might find yourself asking some more questions. Ones that might not have anything at all to do with the actual functioning of the treadmill itself. Let's delve into five common questions that might arise during your time with one of the most popular pieces of cardio equipment on the market!
Is It Safe To Use A Treadmill During A Thunderstorm?
One of the big reasons that people get treadmills is so they can run indoors when there is inclement weather; after all, it's hard to log your miles when there's snow on the ground outside or a hurricane is coming through! This is where having a treadmill inside is perfect. On the flip side though, there can be times when it might not be the best idea to be on your treadmill, and that's when there is a thunderstorm. This is due to the fact that if your home experiences a power outage and you're running on the treadmill at a fast clip, a sudden stop due to power loss can send you flying. If you must be on your treadmill during a storm, walking is your best bet, at least until the storm passes.
Can You Be Too Heavy For A Treadmill?
Typically, most treadmills are rated up to 300 pounds; some, even going as high as 500 pounds. Does this matter in the grand scheme of things on the equipment itself? Probably not, but the weight limit on most treadmills on the market today have a weight capacity listed since the overall torque of the machine can be compromised after excessive weight is pounding on the machine. You can typically see on the side of the treadmill what the listed weight is, but if you're over 300 pounds, you might want to check and make sure your treadmill is suited for the weight capacity – and if it isn't, there are even some specialized treadmills that go up to 800 pounds!
Is It Safe To Use A Treadmill While Pregnant?
Treadmills are perfectly fine to use during pregnancy, and can be a fabulous way to get some cardiovascular exercise into your routine. Obviously the speed and incline will need to be adjusted to each individual based on their exercise history and pregnancy, but the biggest factor to remember is to wear the safety clip (to stop the machine quickly incase of any mishaps) and to pay attention to how you're stepping on the belt in order to keep from falling.
Is It Safe To Use A Treadmill After Hip Replacement?
Exercise after a hip replacement is a good thing – be aware though, that getting on a treadmill is going to be up to your doctor, since they'll know how to best progress you after your surgery is complete. Being on a treadmill places loads of impact on your hip joints (whether you're walking or running), so speak with your surgeon to determine the best way to get back to normal movement. Typically, walking is the best way to gain strength and endurance, and then progressing to power walking and then eventually jogging and running. Get in touch with your doctor and see what they think as far as a plan to get you back and moving after surgery!
Is It Okay To Use A Treadmill Barefoot?
Barefoot running has become popular over the years, and the mindset might be that running without shoes on a treadmill might help you learn to run like that outside. However, since the treadmill doesn't offer the variation of terrain like the great outdoors does, you might find the transition to be less than smooth. The treadmill also doesn't allow you to physically move yourself forward (and instead you are essentially running in place) so you might find yourself getting blisters or calluses. Running without shoes on a treadmill also means you need to make sure that your toes don't get caught under the front carriage or under the belt itself – especially as it's moving – so just be aware of that before hopping on for a barefoot run!